Glacier eHikes Honored for Multimedia Developments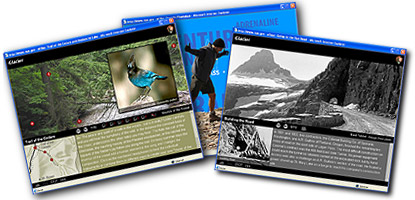 News Release Date:
January 16, 2007
Contact: Melissa Wilson, 406 888-7895
WEST GLACIER, MONT. – The National Association of Interpretation (NAI) recently awarded Glacier National Park's eHikes 1st place in the multimedia category at their National Interpreters Workshop held in November in Albuquerque. The eHikes, developed by Glacier's Visual Information Specialist David Restivo, allow visitors to Glacier's Web site to view pictures, videos, 360 degree panoramas, and to listen to the sounds of nature with a click of their mouse.
NAI's Interpretive Media Award Competition promotes excellence in the delivery of natural, cultural, and historical nonpersonal interpretive services. The multimedia category includes any interpretive creation that utilizes multiple forms of electronic media, including DVDs, CD-roms and websites. Innovation, interpretation, excellence in graphic presentation, and ease of use were factors considered by the judges.
Visitors to Glacier's Web site can view two eHikes: the Trail of the Cedars and Avalanche Lake (a day hike) and the backpacking trip Dawson-Pitamakan. The eHike technology has also been used to create an eTour detailing the construction of the park's historic Going-to-the-Sun Road. The hikes and tour can be found online at: https://www.nps.gov/glac/photosmultimedia/virtualtour.htm.
Yellowstone National Park and Bureau of Land Management's Campbell Creek Science Center (Anchorage) were finalists in the multimedia category.
NAI is a professional organization dedicated to advancing the profession of heritage interpretation, currently serving about 5000 members in the United States, Canada, and over thirty other nations. Individual members include those who work at parks, museums, nature centers, zoos, botanical gardens, aquariums, commercial tour companies, and theme parks. Commercial and institutional members include those who provide services to the heritage interpretation industry.
Last updated: February 24, 2015