Glacier National Park begins Harlequin Duck Study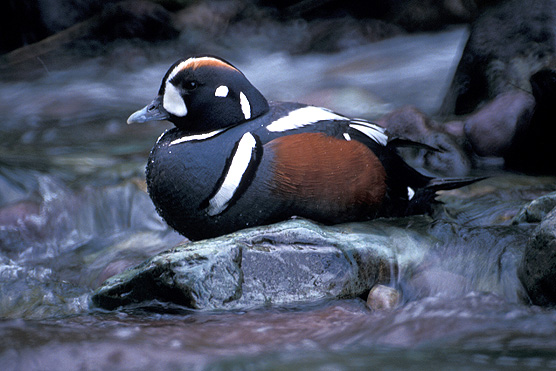 News Release Date:
April 27, 2011
Contact: Ellen Blickhan, 406-888-5838
Contact: Mark Biel, 406-888-7919
WEST GLACIER, MONT. – Glacier National Park scientists in cooperation with researchers from the University of Montana, will initiate a two-year study of harlequin ducks on Upper McDonald Creek in late April. Researchers will use radio-telemetry and banding to expand Glacier's knowledge of where harlequins nest and the factors affecting nest success and chick survival. The information collected in this study will be used to help bolster the current knowledge of this species in Glacier National Park and Montana. This project is jointly funded by the Federal Highway Administration and a grant provided through the National Park Service Rocky Mountains Cooperative Ecosystem Studies Unit.
Harlequin ducks, a species of concern in Montana, occupy a unique niche among waterfowl. These small sea ducks spend most of their lives feeding in the turbulent surf along the North American coast. Each April, the ducks migrate inland to breed and raise their young along fast-moving, freshwater streams. They are specially adapted to feed on stream bottoms in raging water, a place inaccessible to other wildlife species. Male harlequin ducks are very striking, being slate blue, with bold white, black, and chestnut markings.
Harlequins are at high risk of local extinction due to their very limited numbers, limited habitat, overhunting (occurring outside the state), sensitivity to disturbance, and habitat loss or alteration. The impacts of climate change and consequent changes in spring runoff are also of serious concern for this species. Harlequins occur on only a limited number of streams in Montana; more than 25 percent of all harlequin duck chicks produced in the state are raised along Glacier National Park's Upper McDonald Creek.
For more information on this project, please contact wildlife biologist Lisa Bate at 406-888-7833 or Natural Resources Program Manager Mark Biel at 406-888-7919.
Last updated: February 24, 2015