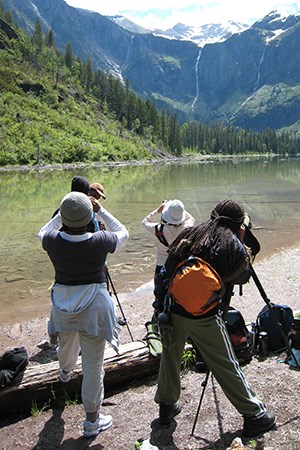 Glacier's scenery dramatically illustrates an exceptionally long geologic history and the many geological processes associated with mountain building and glaciation.
The geologic features of Glacier National Park combine natural beauty, examples of mountain-building, and the effects of glaciation, revealing many chapters in the history of the Earth; and providing a snapshot of the tremendous forces of geologic uplift, mountain building, and overthrust events that provided the unique foundation for Glacier's natural beauty.
Grades: 5–9
Locations: Avalanche Lake, St. Mary, and Many Glacier
Duration: 5 hours, view our Earth Science Field Trip Schedule to see a basic outline for the day
Group Size: 60 students total, 2 groups of 30 students.
Skills: Observe, communicate, identify, classify
Vocabulary: national parks, glaciation, erosion, soil, rock cycle, landform building, weathering
Essential Questions:
How has the landscape changed over time?
How do we know that change has occurred?
What forces shape the landscape?
What role may people play in changing the landscape of Glacier National Park?
National and State Standards
Montana State Standards
MT.SCI.K-12.4 Students, through the inquiry process, demonstrate knowledge of the composition, structures, processes and interactions of Earth's systems and other objects in space.
A proficient student will be able to model and explain the internal structure of the Earth and describe the formation and composition of Earth's external features in terms of the rock cycle and plate tectonics and constructive and destructive forces.

A proficient student will be able to differentiate between rock types and mineral types and classify both by how they are formed and the utilization by humans
A proficient student will be able to use fossils to describe the geological Timeline
Next Generation Science Standards
MS-ESS2-2 Construct an explanation based on evidence for how geoscience processes have changed Earth's surface at varying time and spatial scales.