Earth Science Field Trip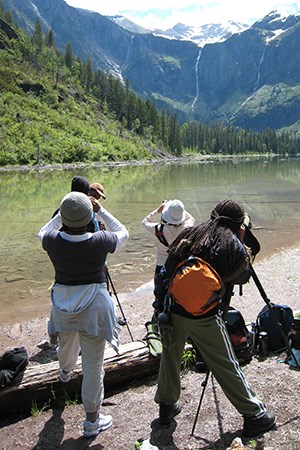 Glacier's scenery dramatically illustrates an exceptionally long geologic history and the many geological processes associated with mountain building and glaciation.
The geologic features of Glacier National Park combine natural beauty, examples of mountain-building, and the effects of glaciation, revealing many chapters in the history of the Earth; and providing a snapshot of the tremendous forces of geologic uplift, mountain building, and overthrust events that provided the unique foundation for Glacier's natural beauty.
Grades: 5–9
Locations: Avalanche Lake, St. Mary, and Many Glacier
Duration: 5 hours, view our Earth Science Field Trip Schedule to see a basic outline for the day
Group Size: 60 students total, 2 groups of 30 students.
Skills: Observe, communicate, identify, classify
Vocabulary: national parks, glaciation, erosion, soil, rock cycle, landform building, weathering
Essential Questions:
How has the landscape changed over time?
How do we know that change has occurred?
What forces shape the landscape?
What role may people play in changing the landscape of Glacier National Park?
National and State Science Standards:
MS-ESS2-2 Construct an explanation based on evidence for how geoscience processes have changed Earth's surface at varying time and spatial scales.
MS-ESS2-3 Analyze and interpret data on the distribution of fossils and rocks, continental shapes, and seafloor structures to provide evidence of the past plate motions.
Objectives
Students will be able to:
Describe the National Park Service mission and explain why Glacier was established.
Name the three main groups that rocks are classified into (sedimentary, metamorphic, and igneous) plus explain how each type is formed.
Tell how stromatolites, mud cracks and ripple marks are evidence of the rocks here having formed under water.
Tell how the rock cycle works (i.e. explain why it is a "cycle".)
Give an example of how water can affect landform building and destruction.
Find examples of glaciation on landscape (hanging valleys, striations, etc).
Identify examples of erosion and weathering and explain the difference.
Describe how glaciers can be evidence of climate change and how this area is likely to change.
Field Trip Logistics
Teachers wishing to have their students participate in the earth sciences field trip should plan to arrive in the park by 9:30 am and stay until 2 pm. Allowing adequate time (5 hours) inside the park will result in a less-rushed, more enjoyable experience. Everyone in the group must be prepared to be outside all day and ready to hike a trail that gains 500 ft of elevation over 2 miles (one way, for a total of 4 miles round-trip).
Example for a bus of 60 students, divided into 2 groups of 30 students each:
Each group will be assigned a ranger for the day and both groups will cover the same activities but at slightly different times or places along the trail.
Reserve Your Trip
Visit the Scheduling & Guidelines page to find the reservation form as well as tips for a successful day in the park.
If you have questions, email or call the Apgar Education Office at 406-888-7899.
Preparing for Your Trip
Students that spend time preparing for their visit get more out of a field trip to the park. Activities post-visit also help to reinforce information learned during the trip.
Once registered for a field trip, you will recieve a curriculum guide, containing the following lessons:
Pre-visit lessons:
Post-visit lesson:
Suggested activities and supplementary materials:
Last updated: May 27, 2020