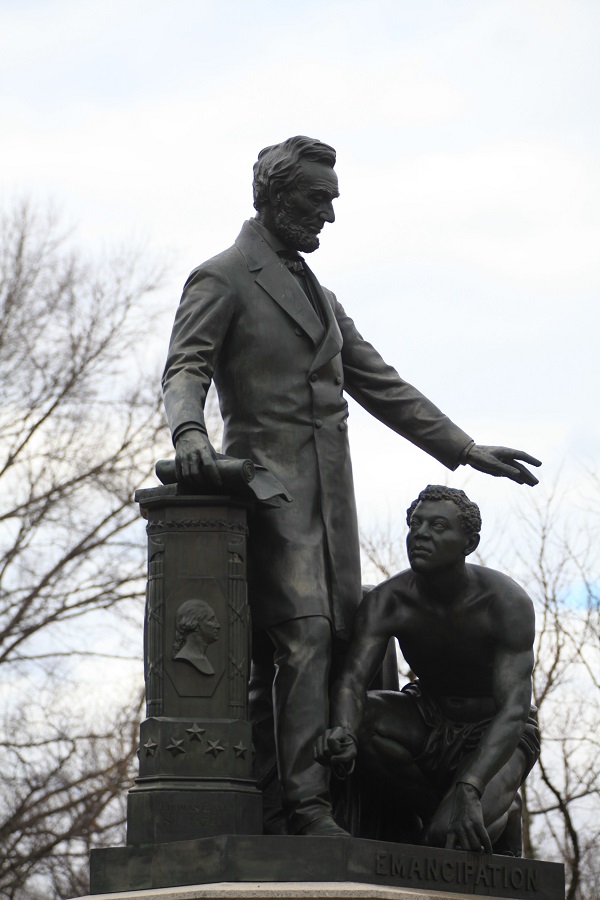 News Release Date:
April 9, 2018
Contact: Pya Langley, 202-619-7158
See history recreated as the past and present come together at Lincoln Park
WASHINGTON— Travel back in time with the National Park Service for Emancipation Day on April 16, 2018, from 2 p.m to 8 p.m. at Lincoln Park on Capitol Hill.
Relive the moment in the District of Columbia's history when Frederick Douglass gave his famous keynote address in Lincoln Park during the 1876 Emancipation statue dedication.
The fun-filled day will honor Douglass's legacy, celebrate and explore the significance of Emancipation Day, and highlight the importance of historic Lincoln Park.
This special event is FREE and open to the public. Program times are as follows:
2 - 5 p.m. Through a Child's Eyes—Kids get to travel back in time with exciting programs designed just for them. Enjoy a puppet show, read stories about freedom and emancipation with a ranger, practice Civil War infantry drills, make your own monument (clay molding), and learn how to identify trees in Lincoln Park that have stood the test of time.

3:30 p.m. "The Lion's Roar"—Frederick Douglass known as the "Lion of Anacostia," delivered an unforgettable speech in Lincoln Park in 1876. See an actor dressed as Douglass perform an excerpt of that speech and bring it to life.

4:45 p.m. Rhythms Back Then—Enjoy live music from Federal City Brass Band as they perform music that would have been played on Emancipation Day 142 years ago. Dressed in Civil War uniforms, band members will use original instruments from the 1860s.

5:30 p.m. "Conflict of Commemoration"—Participate in a discussion about the significance of Emancipation Day and the meaning of the Emancipation statue.

6:30 p.m. A Moment in Time—Witness a grand reenactment of the moment in time Frederick Douglass stunned crowds at the 1876 dedication of the Emancipation statue. Enjoy music from a Civil War era band, see an actor portray "Frederick Douglass" and deliver his historic keynote address, listen to a live reading of the Emancipation Proclamation and see "President Grant" pull the lanyard to unveil the statue!

7:30 p.m. "National Treasure"—Join a ranger on a hunt for the hidden symbolism and meanings of the Emancipation statue.
Emancipation Day in Washington, D.C., marks the anniversary of President Abraham Lincoln signing the Compensated Emancipation Act on April 16, 1862, which freed more than 3,000 enslaved people in the District of Columbia. The dedication of the Emancipation statue in 1876 made Lincoln Park the center for Emancipation Day celebrations for decades.  
Frederick Douglass National Historic Site continues its yearlong bicentennial celebration of the life and legacy of Frederick Douglass through special programs, events and initiatives. Visit go.nps.gov/Douglass200 for more information.
###
About the National Park Service. More than 20,000 National Park Service employees care for America's 417 national parks and work with communities across the nation to help preserve local history and create close-to-home recreational opportunities. Visit us at www.nps.gov, on Facebook www.facebook.com/nationalparkservice, Twitter www.twitter.com/natlparkservice, and YouTube
www.youtube.com/nationalparkservice.
---
EXPERIENCE YOUR AMERICA™
The National Park Service cares for special places saved by the American people so that all may experience our heritage.