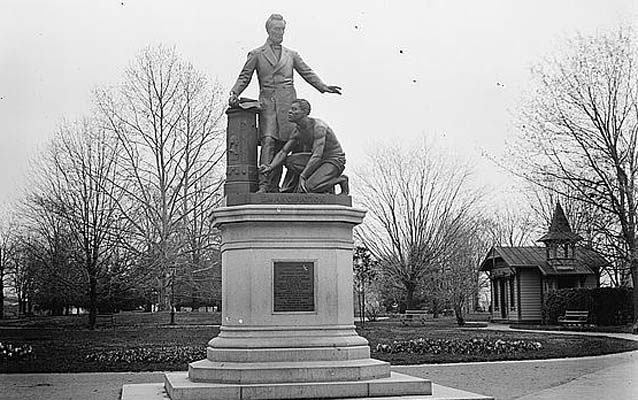 Significance:
Largest Capitol Hill Park that features memorials to President Abraham Lincoln and educator and civil rights leader Mary McLeod Bethune
Benches/Seating, Cellular Signal, Historical/Interpretive Information/Exhibits, Information Kiosk/Bulletin Board, Playground, Public Transit, Scenic View/Photo Spot, Trash/Litter Receptacles, Wheelchair Accessible
Lincoln Park
Lincoln Park is the largest of the Capitol Hill Parks in Washington, D.C., and features monuments to two leaders: President Abraham Lincoln and educator and civil rights leader Mary McLeod Bethune. The square was part of Pierre L'Enfant's original 1791 plan for the city and was intended for public use.

During the Civil War, the square was used as a hospital for wounded troops, whom poet Walt Whitman visited on occasion. When Congress officially named the park Lincoln Square in 1867, it was the first site to bear the name of the assassinated president.

To honor Lincoln's memory, Charlotte Scott, a formerly enslaved woman living in Virginia, used the first $5 she earned as a freedperson to start a fundraising campaign to build a statue in Lincoln Park. Donations were only accepted from formerly enslaved persons, primarily African American veterans, though a white-run war relief organization called the Western Sanitary Commission coordinated the effort Ms. Scott started. 
Designed by Thomas Ball, the statue features President Lincoln in his characteristic frock coat, holding the Emancipation Proclamation before a kneeling black man. Modeled after Archer Alexander, the last person captured under the Fugitive Slave Act, the black man's arm is extended to show his shackles have been broken.

The memorial statue, known as the Emancipation Memorial, was placed in the park in 1876 and dedicated on April 14th, the 11th anniversary of President Lincoln's death, with over 25,000 people in attendance. Frederick Douglass delivered the keynote address before President Ulysses S. Grant, his cabinet, and members of Congress.

While Lincoln Park became a major tourist attraction through the late 19th and early 20th centuries, the statue of Lincoln has not been met with universal acclaim. For many people, including Frederick Douglass, the monument perpetuated negative stereotypes about African Americans.

In 1959, Congress authorized the National Council of Negro Women, Inc. (NCNW) to build a memorial the organization's founder and first president, Mary McLeod Bethune. Originally conceived to be dedicated in 1963, on the centennial of the Emancipation Proclamation, the urgency of the Civil Rights Movement sidelined the statue project. When it was unveiled in 1974 on the 99th anniversary of Bethune's birth, the Mary McLeod Bethune Memorial was the first statue of a woman and the first statue of an African American, on public park land in Washington, D.C. The Emancipation Memorial originally faced west toward the U.S. Capitol until it was rotated east in 1974 to face Bethune's Memorial.
 
Content used with permission from Eastern National's Guidebook to African American History in National Parks.
Last updated: April 9, 2021