Accessibility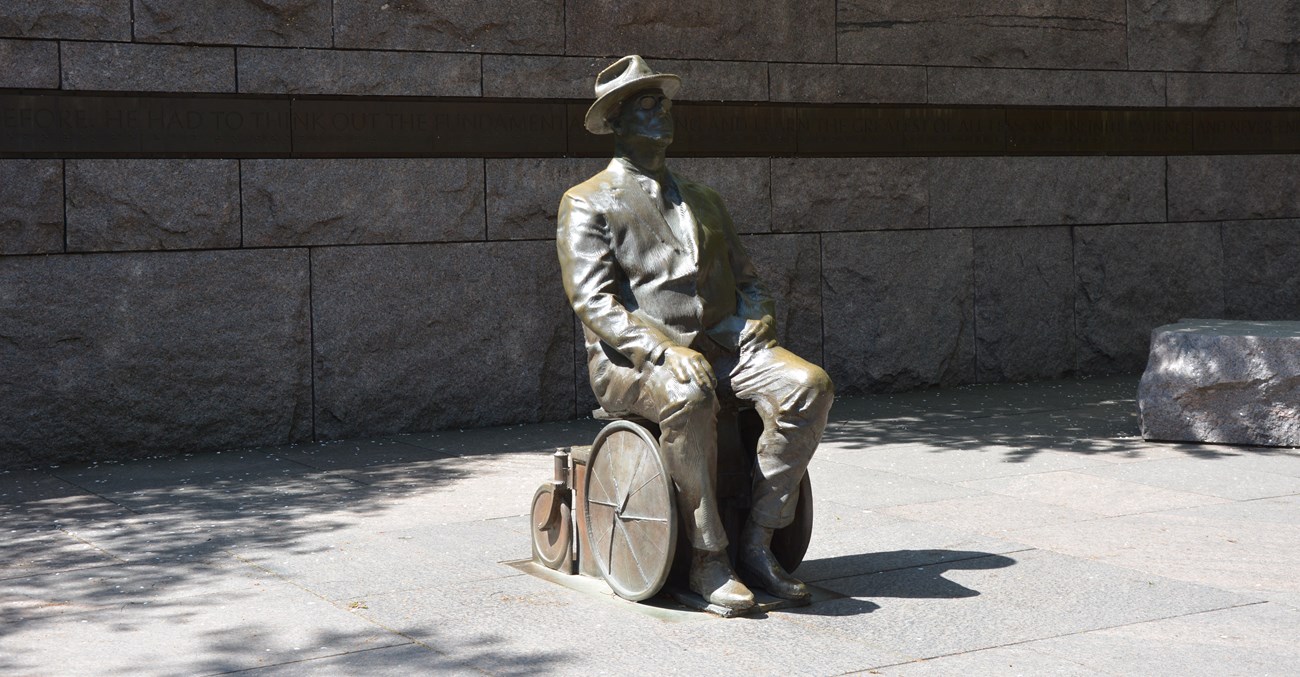 Accessibility is a top priority for National Mall and Memorial Parks. We have established a parkwide Accessibility Coordinator. Your comments on accessibility areas for improvement are always appreciated. Please feel free to
email us
!
GPS Coordinates:
38.883625, -77.043868
Address:
400 West Basin Drive SW, Washington, D.C.
Nearest Intersection:
West Basin Drive SW & Ohio Drive. SW
Accessible Parking
Accessible parking spaces are available next to the Franklin Delano Roosevelt Memorial on West Basin Drive.
Wheelchairs
The entire memorial is wheelchair accessible. Wheelchairs are available upon request with a state issued identification card.

Accessible Restrooms
Accessible restrooms are located on both the north and south end of the memorial.
Tactile Elements in the Memorial
Many aspects of the memorial were designed to be touched. Sculptures are found throughout the Franklin Delano Roosevelt Memorial, including a life-size statue of Roosevelt in a wheelchair in the Prologue Room and life-size statues of a breadline and a man listening to a fireside chat in Room 2. There is a larger-than-life size statue of Roosevelt in a kitchen chair with casters and his beloved dog, Fala, in Room 3. In Room 4, there is also a larger-than-life sculpture of Eleanor Roosevelt.

The largest and most misunderstood tactile is in Room 2. There are five bronze bas relief panels with individual sections representing Roosevelt's 54 New Deal programs, and five bronze freestanding cylinders covered with the negative (or reverse) images of textural elements on the wall. The artist interspersed some elements of braille in the bronze relief's to both encourage touch and to bring attention to the Roosevelt administration's concern for people with disabilities. One of the New Deal projects, the Works Progress Administration (WPA) produced braille texts for the people with visual impairments.
Accessible Exhibits
There are accessible exhibits in the information center. They include both tactile models of the memorial and elements within and audio listening devices.
Accessible Waysides
There are several accessible waysides throughout the memorial. Each contain the nearby inscriptions in braille. Most also include tangible models of elements of the memorial. They also include audio listening devices.
Braille Brochure
Braille brochures of the Franklin Delano Roosevelt Memorial are free of charge to on-site visitors. If possible, please feel free to email us or call 202-426-6841 to provide advance notice of your visit.
Audio Described Brochure
The UniDescription App audio describes many National Park Service official map and guide publications, including the Franklin Delano Roosevelt Memorial and other memorials on the National Mall (available for free on the App Store and Google Play).

Click here for an audio described version of the Franklin Delano Roosevelt Memorial brochure.
Audio Description of the Franklin Delano Roosevelt Memorial
Click here for a detailed description of the Franklin Delano Roosevelt Memorial.
(The hyper link takes you to audio tour which is also written on the website at)
https://www.nps.gov/frde/planyourvisit/frdedescribe.htm
Last updated: May 3, 2022