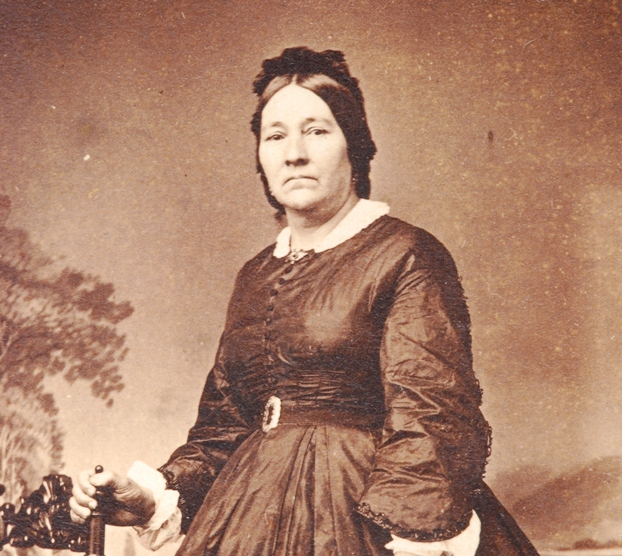 News Release Date:
February 28, 2018
Contact: Meagan Huff, Assistant Curator, (360) 816-6255
Contact: Theresa Langford, Curator, (360) 816-6252
In honor of Women's History Month, on March 31, from noon to 4 pm, special exhibits and programs will highlight women in the site's history.
At Fort Vancouver, Assistant Curator Meagan Huff will host a "pop-up" exhibit on the history of Marguerite and Eloisa McLoughlin, a mother and daughter who lived at the Hudson's Bay Company fort. The exhibit will feature artifacts from the national park's museum collection that were once owned by the two women; Huff will be on hand to discuss both the artifacts and their relation to the stories of the McLoughlin women.
"Marguerite McLoughlin and her daughter Eloisa led fascinating lives," said Huff. "In learning about their stories, we can understand so much about the history of Fort Vancouver and the history of the Pacific Northwest. Being able to see a bracelet that Eloisa kept to remind her of her first husband, or Marguerite McLoughlin's beautiful ivory sewing tools, really strengthens that connection to the past."
Also at Fort Vancouver, costumed volunteer interpreters will discuss women's history at the fort, and a dress owned by Maria Barclay, the wife of the fort's physician, will be on display.
At the park's Visitor Center, Park Guide Julia DeNoto will host a second pop-up exhibit highlighting the role of women in the preservation of this national park. Alongside artifacts owned by each woman, DeNoto will share the stories of Congresswoman Julia Butler Hansen, who advocated for the preservation of Fort Vancouver, and Eva Emery Dye, a popular author and historian who helped found the McLoughlin Memorial Association to save the retirement home of Dr. John McLoughlin, Fort Vancouver's Chief Factor. The McLoughlin House, located in Oregon City, is now a unit of Fort Vancouver National Historic Site.
Said DeNoto, "It is an honor to share meaningful artifacts and stories related to the groundbreaking work of Julia Butler Hansen and Eva Emery Dye with visitors and explore what their accomplishments mean to all of us today. If Fort Vancouver or the McLoughlin House mean something special to you, come share and dedicate a part of your day to connecting with these women."
What: 
Women's History Day at Fort Vancouver National Historic Site
When: 
March 31, 2018, noon to 4 pm
Where: 
Fort Vancouver and the Fort Vancouver Visitor Center
Cost: 
Entrance to the Visitor Center is free. Entrance to the fort costs $7 per adult; youth ages 15 and under are free. America the Beautiful passes are honored.