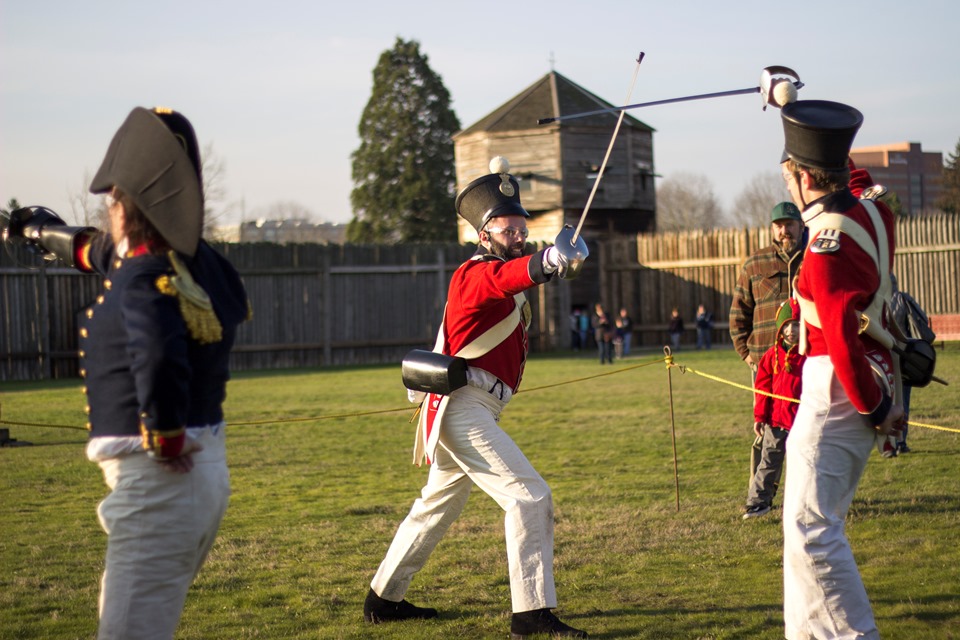 News Release Date:
June 27, 2018
Contact: Elaine Dorset, (360) 816-6254
Fort Vancouver National Historic Site (NHS) is pleased to announce that it will host a saber training program for the public this summer. The training will take place inside the Hudson's Bay Company fort stockade and participants will wear period correct clothing provided by Fort Vancouver National Historic Site.
In 1845, the HMS 
Modeste
, an 18-gun, 120 foot long British Royal Navy ship, arrived at Fort Vancouver in the contested territories of the Pacific Northwest to patrol the area and protect British interests. The Navy sailors, and a detachment of Royal Marines, were trained to use boarding cutlasses (a type of saber) during both open sea and land battles. The Summer 2018 Saber Training Program will focus on the training methods used by these military personnel, and the history of the British Royal Navy at Fort Vancouver.
Fort Vancouver NHS's Saber Training Program is presented in partnership with Academia Duellatoria, a martial arts school based in Portland, Oregon. Saber training is similar to many other martial arts; it requires the development of physical discipline and mental control. This training program is a great opportunity to learn about the history of the military at Fort Vancouver while also learning some of the skills that the sailors and Marines would have relied upon.
Within the program, three training levels are offered:
Basic 1: A program designed for someone new to saber training. Basic 1 begins with footwork and progresses through solo and partner drills, including offensive cuts and thrusts and defensive guards and parries.
Basic 2: A continuation of the skills learned in Basic 1. Basic 2 will consist of additional solo and partner drills and will focus on perfecting technique.
Intermediate: A program that includes more advanced skills and techniques beyond what is learned in Basic 2. Intermediate will continue perfecting techniques and begin the challenging concepts of offense and defense with an opponent. You must test for proficiency in Basic 2 skills in order to take Intermediate.
All training sessions also provide background history of the British Navy and Royal Marines, and their interrelationships with the peoples of the Pacific Northwest.
Training sabers are provided, as well as basic Personal Protective Equipment (safety glasses). The training sabers have dull edges and blunt tips.
Participants who successfully complete both the Basic 1 and Basic 2 training courses will have the opportunity to volunteer at living history events and programs at Fort Vancouver National Historic Site.
What
: Saber training presented in partnership with Academia Duellatoria at Fort Vancouver National Historic Site. This program is designed for participants ages 12 and up.
Where
: Inside the courtyard of the reconstructed Hudson's Bay Company Fort Vancouver, at Fort Vancouver National Historic Site.
When
: This seven week training will be held on Wednesdays, starting July 11 and ending August 22, from noon to 1:30 pm.
Costs
: The seven week training course costs $100 per person. The training fee is payable to Academia Duellatoria by check or PayPal. Fees must be paid before the training sessions begin. No payments will be accepted at the training sessions. Enrollment in the training is not guaranteed until your payment is received.
Contact & Registration
: For more information, or to sign up, please contact Jeff Richardson of Academia Duellatoria at (503) 888-9310 or by
email
.