News Release
Fort Vancouver National Historic Site Announces 2017-2018 Lantern Tour Dates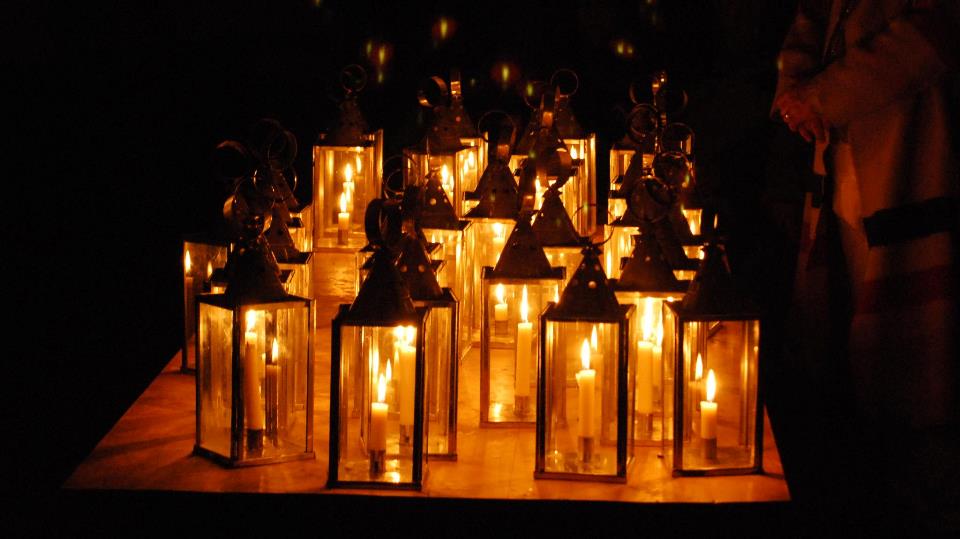 News Release Date:
October 10, 2017
Contact: Bob Cromwell, (360) 816-6253
Fort Vancouver National Historic Site is pleased to announce this season's dates for our annual Lantern Tours at the national park. The Lantern Tour Series offers attendees an opportunity to view many of the resources of Fort Vancouver National Historic Site in a different light - at night, on foot, and by candle lantern!
Reservations for all Lantern Tours are required, and payment for the tour must be made at the time of the reservation. The Lantern Tour season runs from October through February each year. Lantern Tour reservations for the upcoming seasons are being accepted now. This season, the park is offering two different types of Lantern Tours: one which explores the reconstructed 19th century Hudson's Bay Company Fort Vancouver, and another of the U.S. Army's Vancouver Barracks.
Both Lantern Tours meet at the entrance gate to the reconstructed Fort Vancouver, 1001 E Fifth Street. All tours start at 7 pm. Due to program length, these tours are recommended for children ages 10 and over. Reservations are $20 for adults and $10 for children ages 15 and under.
Lantern Tour: An Evening at the Fort
"An Evening at the Fort" is a wonderful opportunity to experience the reconstructed Hudson's Bay Company fort at night. As in past years, each adult attending the program will carry their own candle lantern and tour with a park ranger through the reconstructed fort's Counting House, Fur Store, Chief Factor's House, Kitchen, and Bake House.
In each building, visitors will experience historical vignettes with costumed living history interpreters, including graduates of the park's Youth Volunteer Programs. Visitors will learn what activities would have occurred during the evening hours at Fort Vancouver.
"The reconstructed Fort Vancouver in the evening is quite an experience, with candlelit buildings, interpreters in historical costume, and each visitor with their own lantern walking under the night sky," said Park Guide Scott Irvine, program coordinator. "When the sun goes down and the city is quiet, it is easy to envision what this place was like in the 1840s."
Dates:
October 28, 2017
November 25, 2017
December 16, 2017
January 27, 2018
February 17, 2018
Lantern Tour: Walking Vancouver Barracks
"Walking Vancouver Barracks" Lantern Tours will tour visitors through the grounds of Vancouver Barracks by lantern light, connecting attendees to the national park's military history through thematic storytelling.
These tours will be small in size, and each will feature a specific thematic focus rather than historical vignettes. They will require walking through grass and uneven surfaces at night and in inclement weather, including rain and mud, and therefore, this tour is recommended for visitors with out mobility restrictions. 
Dates
:
October 21, 2017
November 18, 2017
January 20, 2018
February 3, 2018
Reservations
Reservations are required for all Lantern Tours. To make reservations, prospective attendees can call the bookstore at the park's Visitor Center, managed by the non-profit Friends of Fort Vancouver, at (360) 816-6216.  
Payment for the tour must be made at the time of the reservation. Payment will NOT be accepted on the evening of the tour.
National Park Passes do not cover this special program.
Reservations are final and non-refundable. Paid reservations/receipts are transferable.
Changes to reservations may be made up to noon the day before the tour, allowing those on the waiting list an opportunity to attend.
Other Information
Parking is available at the lot adjoining the reconstructed Fort Vancouver at 1001 E Fifth Street. This parking lot will open at 6:30 pm.
Attendees are requested to please arrive no later than 6:45 pm to allow time to park, present their ticket, and get oriented.
Attendees are also requested to please follow the lantern-lit path upon arrival, and check in at the contact Station just inside the main gate to the reconstructed fort.
The tours last approximately 1 hour and 30 minutes, and tour routes are approximately one mile in length.
Attendees are advised to please dress for the weather and the terrain, as they will be outside and on sidewalks, pathways, and/or grass and uneven ground surfaces.
Only attendees 10 years and older may carry a lantern.
Last updated: October 10, 2017