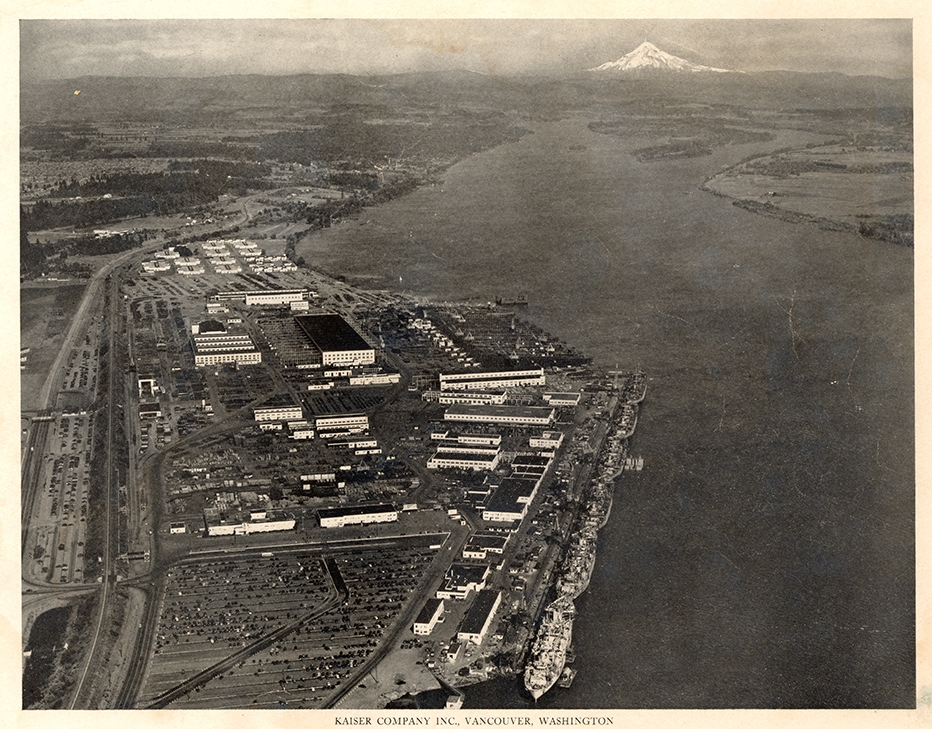 News Release Date:
October 19, 2017
Contact: Theresa Langford, Curator, (360) 816-6252
The National Park Service, the City of Vancouver, and the Clark County Historical Museum are pleased to announce the opening of a new exhibit on the extraordinary history of Vancouver's Kaiser Shipyard on October 28 at Pearson Air Museum.
The exhibit will include historic objects - archaeological artifacts recovered from the site, which workers used on a daily basis - as well as reproductions of historic photos and documents in the Fort Vancouver National Historic Site (NHS) museum collection. A model of the USS
Gambier Bay
, one of the "baby flat tops" built in the Vancouver Yard (and the only US Navy carrier sunk by enemy surface vessels) will also be on display.
Also premiering is a 13-minute-long documentary produced by Clark/Vancouver Television, which chronicles the history and legacy of the shipyards through interviews with former shipyard workers and local historians, along with photographs and film archives. The video will be shown in the Tex Rankin Theater at Pearson Air Museum, and will be available for viewing on request in the Fort Vancouver Visitor Center.
"Vancouver has played a major role in both World Wars. Pearson Air Museum has an extensive exhibit on the World War I Spruce Production Division and its effect on aviation, and this new exhibit will share the story of how the Kaiser Shipyards built ships for the US Navy while changing Vancouver into the city we know today," said Bob Cromwell, Chief of Interpretation at Fort Vancouver NHS.
About the Kaiser Shipyards
When the United States entered World War II, the Allies were in need of ships...fast! The US Maritime Commission hired several contractors to construct the ships needed to win the war. Among them was Henry J. Kaiser, a bold American entrepreneur. That spring, he built three yards in the Portland-Vancouver area.
At the 400-acre Vancouver Yard on the Columbia River waterfront, construction moved at a rapid pace, operating around the clock and setting production records. By war's end, the Vancouver Yard had launched 10 Liberty Ships, 30 landing craft, 50 escort carriers, 31 attack transports, 12 C-4 troopships, and 8 C-4 cargo vessels!
The shipyards offered new employment opportunities to those in the local area, many of whom had never worked before, and recruited people from other parts of the United States. Kaiser's endeavor transformed Vancouver almost overnight. The city's population tripled and diversified, new neighborhoods and support services were built to meet their needs, and new technologies revolutionized local businesses.
What:
The opening of a new exhibit on the history of the Kaiser Shipyards in Vancouver, Washington
Where:
Pearson Air Museum, 1115 East 5th Street, Vancouver, WA 98661
When:
Saturday, October 28, 2017, at 2 pm
Cost:
Free