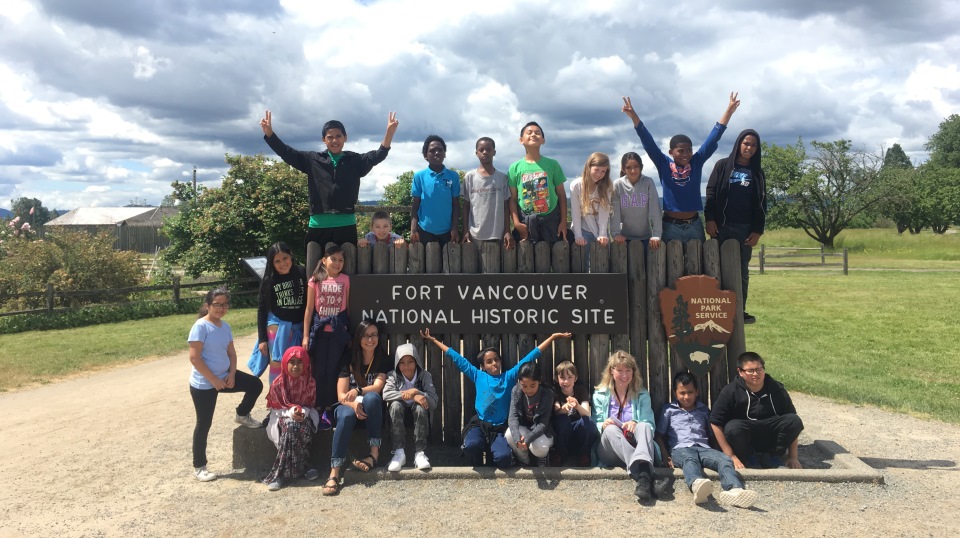 News Release Date:
September 21, 2017
Contact: Bob Cromwell, Chief of Interpretation, Fort Vancouver National Historic Site, (360) 816-6253
Contact: Alanna Sobel, National Park Foundation, (202) 796-2538
Fort Vancouver National Historic Site was selected to receive a 2017 field trip grant from the National Park Foundation, the official charity of America's national parks. This $10,000 grant will reimburse the costs of transportation for Title I fourth grade class field trips to this national park.  
This grant, part of the Foundation's
Open OutDoors for Kids program
, supports
Every Kid in a Park
.  
"I can still remember the excitement of exploring my first national park as a kid and it made me want to discover more," said National Park Foundation President Will Shafroth. "I'm thrilled that our National Park Foundation grants make it possible for hundreds of thousands of kids to experience the wonder of parks for the first time, sparking a lifelong love for national parks."  
Park Superintendent Tracy Fortmann said, "There's so much to discover at Fort Vancouver! We typically welcome over 12,000 students on field trips each year, but we know that not all schools can easily afford to come here, even though we waive fees for all educational groups. We hope that this grant will help more schools bring young visitors to learn and have fun, and develop a lifelong connection to our nation's history."  
During their time on site, the focus is on a place-based learning program called "Talk of the Trade," which is aligned to the upper elementary state history curriculum. During this program, students explore the historic site through the eyes of a fur trader of mixed ethnicity. Interactive elements include learning vocabulary of Chinook Jargon, the common language of the multicultural fur trade, how early trade and barter systems worked in a region with no currency, the environmental effects of fur extraction, and how people from many different backgrounds lived here together. After their field trip, the students may complete a curriculum packet (developed by staff from the park and from the local Educational Service District) that uses archaeology and material culture as a lens for investigating the past.  
"We've learned that helping to provide transportation to Title I schools for a visit to the Fort Vancouver site is a tremendous chance for all students to learn about cultural exchange between Native Americans, international trade and the development of communities in the Northwest. These activities are memories they will recall and cherish as adults, too," said Mary Rose, Executive Director of the Friends of Fort Vancouver.  
For the full list of grantees and their projects, click
here
.  
ABOUT THE NATIONAL PARK FOUNDATION
The National Park Foundation is the official charity of America's national parks and nonprofit partner to the National Park Service. Chartered by Congress in 1967, the National Park Foundation raises private funds to help PROTECT more than 84 million acres of national parks through critical conservation and preservation efforts, CONNECT all Americans with their incomparable natural landscapes, vibrant culture and rich history, and INSPIRE the next generation of park stewards. In 2016, commemorating the National Park Service's 100th anniversary, the Foundation launched The Centennial Campaign for America's National Parks, a comprehensive fundraising campaign to strengthen and enhance the future of these national treasures for the next hundred years. Find out more and become a part of the national park community at 
www.nationalparks.org
.