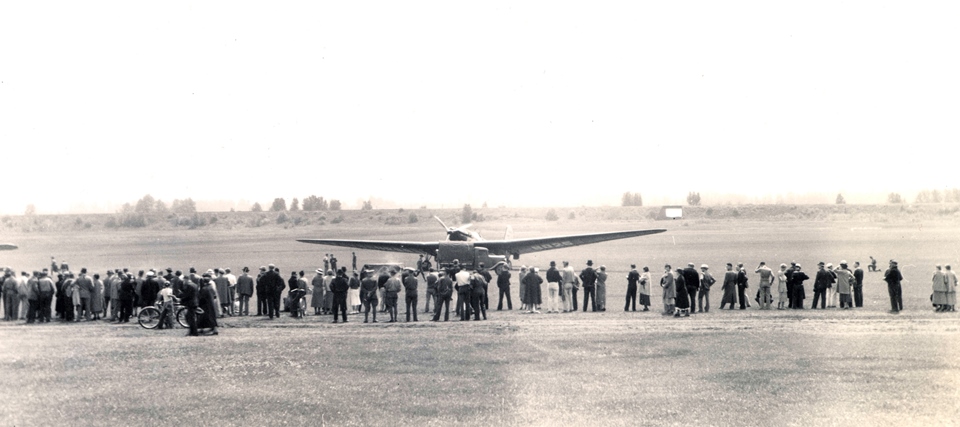 News Release Date:
June 13, 2018
Contact: Bob Cromwell, Chief of Interpretation, (360) 816-6253
Pearson Air Museum at Fort Vancouver National Historic Site will host two events next celebrating two historic aviation moments that occurred at Pearson Field. This includes a commemoration of the landing of the 1937 Valery Chkalov piloted first transpolar flight on June 20, and the grand opening of a new exhibit of a full scale of replica of Silas Christofferson's 1912 Curtiss Pusher on June 23.
The first flight over the North Pole occurred between June 18-20, 1937, leaving Moscow, Russia, flying over 63 hours continuously, and landing at Vancouver, Washington. The gigantic, single engined ANT-25 was piloted by a three-man crew, including Valery Chkalov, Russia's most renowned test pilot at the time. The annual commemoration of the event will include a wreath laying at 9:30 AM at the outdoor Chkalov monument located at Pearson Air Museum The public is encouraged to attend the wreath laying, and view the related exhibit at Pearson Air Museum, A Red Bolt from the Blue.The grand opening of the full-size Curtiss Pusher replica will be 1:00-2:00 PM on Saturday, June 23A team of National Park Service volunteers has been constructing this airplane for the past two years using a copy of 1912 original plans of Glenn Curtiss' Model D "Pusher," a 1912 manual on how to build a "Curtiss Aeroplane," and 1912 photographs of Silas Christofferson's plane.
Christofferson was an early aviator who flew his locally built airplanes from the U.S. Army's Vancouver Barracks Polo Grounds from 1911-1913. This was the earliest period of aviation history, and was within the first decade of recorded fixed-wing flights. Most famously, Christofferson flew this type of aircraft from the rooftop of the 13 story tall Multnomah Hotel on June 12, 1912, to kick off the first Rose Festival Parade in downtown Portland, Oregon. He flew back across the Columbia River, and landed at Vancouver Barracks' Polo Grounds, which is now Pearson Field.
"This is the culmination of a two year volunteer project that combined the multiple talents of over a dozen National Park Service volunteers who hand-built this perfectly scaled replica, rediscovering century old airplane construction techniques in the process," said Fort Vancouver Chief of Interpretation and Pearson Air Museum Manager, Bob Cromwell. "All of the elements of the airplane are constructed with the same materials and techniques that Silas Christofferson would have used in 1912, right down to cotton fabric held in place with cut tacks, with a shellac coating to shrink the cotton into shape."
"Although our replica is static and not outfitted to fly, we went to the extent of using a non-functional, period Curtiss OX-5 engine block, and constructed all of the flight controls to replicate the 1912 Curtiss control system," said lead project volunteer, Mike Daly. "If a working engine were ever put in place, we know the airplane could fly."
The event will introduce the volunteer team, thank the project donors, and offer the public the opportunity to ask questions of the builders. The park is anticipating descendants of the Christofferson and Cox families will attend as well.
What
: Chkalov Flight Commemoration and Grand Opening of Curtiss Pusher Replica Airplane Exhibit
When:
Wednesday, June 20, 9:30-10:30 am, and Saturday, June 23, 1:00-2:00pm
Where:
Pearson Air Museum at Fort Vancouver National
             Historic Site, 1115 E. 5th Street, Vancouver, WA.
Cost:
Both events are Free