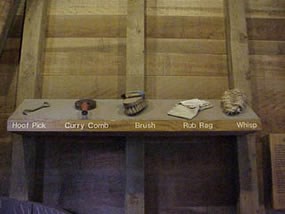 The tools or props that would be used in the stables would include the following:
Hoof Pick - a flat-edged metal hook used to clean the hooves of horses and mules.
Curry Comb - a wooden, rubber or metal oval comb with rows of dull teeth which is used to clean a horse's, mule's or ox's coat.
Brush - used to brush dust and sweat from the horse's coat and mane.
Rub Rag - used to remove sweat and moisture from the horse's coat.
Whisp - a tool to clean and curry the horse's mane and tail hair.