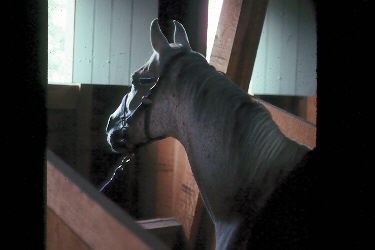 The dragoon's routine began at daybreak, when reveille sounded. Fifteen minutes later the stable call was blown, which was repeated 40 minutes before noon and immediately after retreat. The principles for feeding and watering the animals were well established. At reveille about an hour to an hour and a half before drill, the horses were fed a small amount of grain. All the animals were fed the same amount because of the difficulty in measuring individual amounts in the semidarkness and the general hurry before breakfast. After they had eaten, the horses were led out, and during stables, the feed boxes and hayracks were thoroughly cleaned and fresh hay placed in the latter. After morning stables, the horses were watered and tied to their stalls to give them a chance to munch in the hay. The horses were fed in small quantities and often, because the stomach of the animal was small. Usually hay was fed before the corn or grain to cause the animal to eat more slowly. When hay was not available, chaff or shop was mixed with the grain. Horses were never worked hard immediately after a full feed, although during a march, continuing on was not considered harmful.
The horses were watered before they were fed to prevent loss of nourishment or colic. The only exception to this rule being in the morning. Horses could be watered other times also but usually did not require as much. At noon the animals were watered and about four pounds of oats were given to them. Unless it was extremely hot or inclement, the horses were then tied outside. In the evening they were watered, given the remainder of the hay and then about five pounds of oats or corn. If a horse bolted his feed, a few large stones could be place in the manger to prevent his taking large mouthfuls.
The forage ration for horses was fixed at 14 pounds hay or fodder and 12 pounds of oats, corn or barley, but this could not always be met at distant and remote outposts. In the spring of 1844, dragoon horses received a daily allowance of four quarts of corn, six quarts of oats, and 14 pounds of hay. The corn and oats were two quarts shy of the ration.