Laundress-Program Outline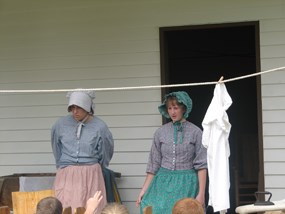 Title of Program: Washboards and Suds: Laundresses at Fort Scott
Type of Program: School Program
Venue: Laundress Quarters
Intended Audience: Elementary Students
Tangible Resources: Tubs and washboards, soap, water, clothing, ironing board, iron, fireplace, firepit.
Intangible Concepts:
Cleanliness - Soldiers were responsible for all other aspects of uniform upkeep, but when it came to washing their shirts and undergarments, that role fell to the laundress. This was partially due to the time involved in doing the laundry which was done twice a week during the winter and three times during the summer. Laundresses often made their own lye soap, which was good for cleaning, but hard on the skin.
Work - Being a laundress meant hard work out in the sun. Lifting heavy water tubs and scrubbing clothes on a washboard made a laundress physically fit. The work she did often took its toll on her appearance. The sun burned and roughened the skin and the lye soap (being a caustic substance) chafed the arms.
Economy - Laundresses were comparatively well paid for their work, but they still had to be frugal with their spending. As with other frontier women of the time, clothes were homemade rather than store bought. Other cost saving measures were also practiced in household management.
Family - Many laundresses were married to noncommissioned officers (sergeants and corporals) and had children. So in addition to their job, many also had the task of raising a family at an isolated post on the frontier.
Universal Concept:
Home - Laundresses worked hard to create a semblance of home for themselves, their soldier husbands, and their families. Even though they were not on the same socioeconomic level as the officers' wives, they too left their imprint on military society.
Theme: Through their work, the laundresses performed a valuable service to the soldiers; through their lives, they left their imprint on frontier society in the mid-nineteenth century.
Goals:
To interpret what life was like for the laundress in the mid-nineteenth century.
To show the laundresses importance in fort society.
To involve students in a hands-on activity.
Objectives: After participating in this program, the students will be able to:
Name at least two regulations a laundress had to follow.
Demonstrate one step of the laundry procedure.
List three things the laundress used to wash clothes.
Explain why the laundress was an important person in fort society.
Suggested Activities:
Let the students try scrubbing clothes on the washboard.
Have the students figure out how much money each laundress made each month.
Use the formula of 4 laundresses to a company of 60 soldiers with each laundress making 50 cents per month for each soldier's clothes that they washed.
Resource Management/Safety Issues:
Since lye soap is caustic, it would be best when having the kids try the scrub board not to use the actual soap. Some kids may also be allergic to soap.
Park Ranger Rosemary Frey giving a program about laundresses to a group of Boy Scouts.

Duration:

12 minutes, 47 seconds
Last updated: July 25, 2016