Laundress-Tools of the Trade

Tools or props at a laundress station would include the following:
Ash hopper - the ash hopper is a large wooden container filled with layers of ashes and straw. Water is poured into the ash hopper and as it seeps through the ashes, it is chemically transformed into lye. The lye is collected in buckets through the spigot at the bottom of the ash hopper and is then mixed with animal fat to make lye soap.
Boiler – clothes are boiled in the boiler, which is a large iron or copper pot prior to being washed in the wooden tubs.
Dolly, Maid, or Washing Stick – this was a wooden stick used much the same as an agitator in a modern washing machine. This could be used to stir the clothes, and because it had little feet could lift the clothes from the water (not pictured).
Ironing boards – the ironing boards of the 1840s were made out of wood. They came in various shapes and sizes. Often an ironing cloth would be placed on top of the board to which made for smoother ironing.
Irons – there were two main types of irons, flat irons and box irons. Both were made of cast iron, but the box iron had a hollow core where coals could be placed. The flat iron was solid; it was heated simply by placing it on a trivet above the coals of a fire.
Lines – clotheslines made of cotton were draped across the laundress quarters on wash days, or were strung between trees.
Line pegs (clothespins) – (not shown).
Laundry tubs, large and small – these were round tubs made of wooden planks and were used to soak and scrub the laundry. They had to be soaked for two or three days prior to use so that the wood would swell and prevent leakage.
Lye soap - laundresses generally made their own lye soap mixing animal fat and lye together. The lye was collected from the ash hopper (see above). Lye soap was good for cleaning but was hard on the skin.
Washboard – the washboards at Fort Scott in the 1840s had a rough wood surface that clothes could be scrubbed on.
Washing bench – tubs were generally placed on a bench so that laundresses would not have to bend down so far to do the wash.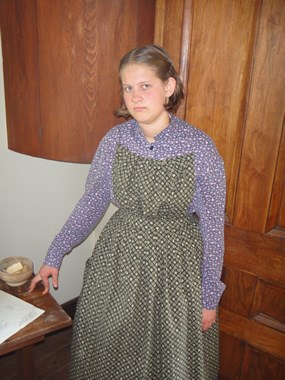 LAUNDRESS OUTFIT
Dress and apron – made of plain cotton and/or wool
Undergarments – cotton drawers, camisoles, and petticoats.
Shoes – black leather high-topped shoes.
Stockings – long cotton stockings held in place by garters. Common colors were neutral or beige.
Hair – the laundress generally wore her hair smoothed back neatly into a bun. It would never have been worn loose during the day.
Head Coverings – a bonnet or day cap was worn at all times.

Some of the definitions on this page are based on information found in Laundry and Cleaning Practices of the Mid-Nineteenth Century by Virgnia Mescher, published by Nature's Finest, 1994. Used by permission.

Last updated: July 25, 2016