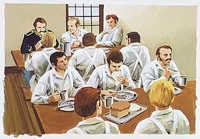 The exact daily rations for each man per day were as follows:
¾ pound of pork or 1¼ pounds of salt beef
18 oz. of flour-made into bread
2.4 oz. of beans or 1.6 oz of rice
1.6 oz. of coffee
1.92 oz. of sugar
5.1 oz. of vinegar
1¼ tablespoons salt
This was the food ration in the 1840s; although, the actual ration would have included soap and candles. The flour was made into bread and was baked on site in the post bakery or bake house. The rest of the rations would have been shipped and stored in the quartermaster storehouse. The salt beef or salt pork was usually not served as a meat dish but rather in a soup, a stew, or a hash, with the main difference between the three dishes being the amount of water poured into each one. Prior to this time, whiskey was also included as part of the standard army ration.
The rations were issued in bulk to the companies, cooked, and then served to the men. There were variations on these rations. For example, tea might be traded for coffee.
When on campaign, hardtack crackers were issued when fresh bread was not available, and hardtack was often issued in camp as well. One pound (about 9 or 10 crackers) was issued to the soldier whether on the march or in camp. Common problems with hardtack were being too hard, wet, moldy, or infested with maggots and weevils. One way to remedy these problems was to boil the hardtack in coffee and skim the weevils and maggots off the foam. Other culinary artists used hardtack to thicken their soup, toasted it with butter, soaked it in cold water and fried it in pork fat, it was called "skillygalee," or just ate it plain. Soldiers grumbled hardtack did not satisfy them. Many parodied the popular song "Hard Times." The following chorus illustrates their frustration: