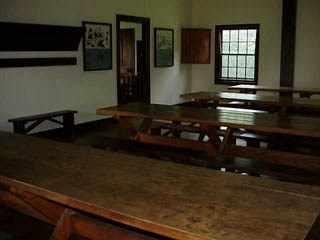 There is an old axiom that an army travels on its stomach. The activity that went on in the kitchen and mess hall was critical to the soldier's health and survival. Lack of food would obviously lead to starvation, but also important was the quality of the cooking and the variety of the food. These pages explore this most important part of army life.
The two rooms associated with this station are the mess hall and the kitchen. Historically, each of the three barracks at Fort Scott would have its own mess hall and kitchen. Today, the dragoon barracks is the only one set up this way.
Mess Hall
The mess hall was furnished with benches and tables. The tables and benches from the Dragoon Barracks were sold to A. Hornbeck for three dollars in 1855. The number is not specified, but benches and tables were standard in mess rooms, as one soldier's descriptions confirms:
I was directed to follow, and found the mess room large enough to hold the entire company of boys at one sitting. There were a long pine tables and benches without backs, all scrubbed clean. At each boy's place was a tin plate, containing a small portion of stewed dried apples, a large stone china bowl filled with black coffee (sweetened but without milk) and a slice of bread about four ounces in weight. There were iron spoons, knives and forks, and a few dishes on the table containing pepper and salt.
Another soldier also wrote of having only tin cups and plates in the mess room, until the men collected enough cash to send away for stone china dishes.There is evidence that stoneware dishes were used at Fort Scott.
Kitchen
At Fort Scott in the 1840s, most of the cooking was accomplished in fireplaces which were located on the ground floor of the barracks and officers' quarters. The only stoves which have been documented at Fort Scott between 1842 and 1853 were used for heating, not cooking.
The Officer of the Day was required to visit and inspect the kettles when cooking commenced. Company officers were expected to visit the kitchens during the day, but no loitering by enlisted men was permitted. Equipment was the simplest. For every six noncommissioned officers, musicians and privates, including laundresses and servants, one iron kettle, two tin pans, and one hatchet were provided. Iron pots instead of kettles were furnished when the troops were in garrison. Brass or copper utensils were not used unless lined with tin. Cooks prepared rations; and after serving the men, they had to wash and scour their cooking vessels and clean up the kitchen and mess hall. Clean utensils and dishes were stored in closets or recesses.