Nature & Science
"It is just as if we were driving through an immense flower garden, the wild flowers are so thick and lovely." Ernestine Franke Huning, May 18, 1863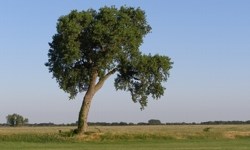 The prairie here once stretched from one horizon to the other, supporting prairie dogs, pronghorns, wolves, elk, grizzly bears, and vast herds of bison. In turn, these plants and animals supported the people who lived on this land, including the Cheyenne, Arapaho, and Kiowa. In the generations that have passed, the land has changed dramatically with agriculture and development. Many of the once numberless animals are no longer found here. However, reminders of the rich natural heritage of the Great Plains remain at Fort Larned.
Explore Fort Larned's three-quarter-mile nature trail, a mowed loop path along the edges of grassland, woodland, and riparian habitats. Along the way, view a broad diversity of native plants and animals including native and restored prairie areas. Cottonwood trees shade the banks of the Pawnee Fork while big bluestem and buffalo grass wave in the steady Kansas breeze. Download the History and Nature Trail Brochure.
Birding is particularly good at Fort Larned because of the diversity of habitat. Moreover, the fort is located directly on the Central Flyway, a major bird migration route in the spring and fall that includes half of the migrating shorebirds east of the Rockies and whooping cranes. This part of Kansas is a phenomenal, world-class birding area. Visitors can pick up a bird checklist at the visitor center.
Last updated: June 4, 2019