September 11 Observance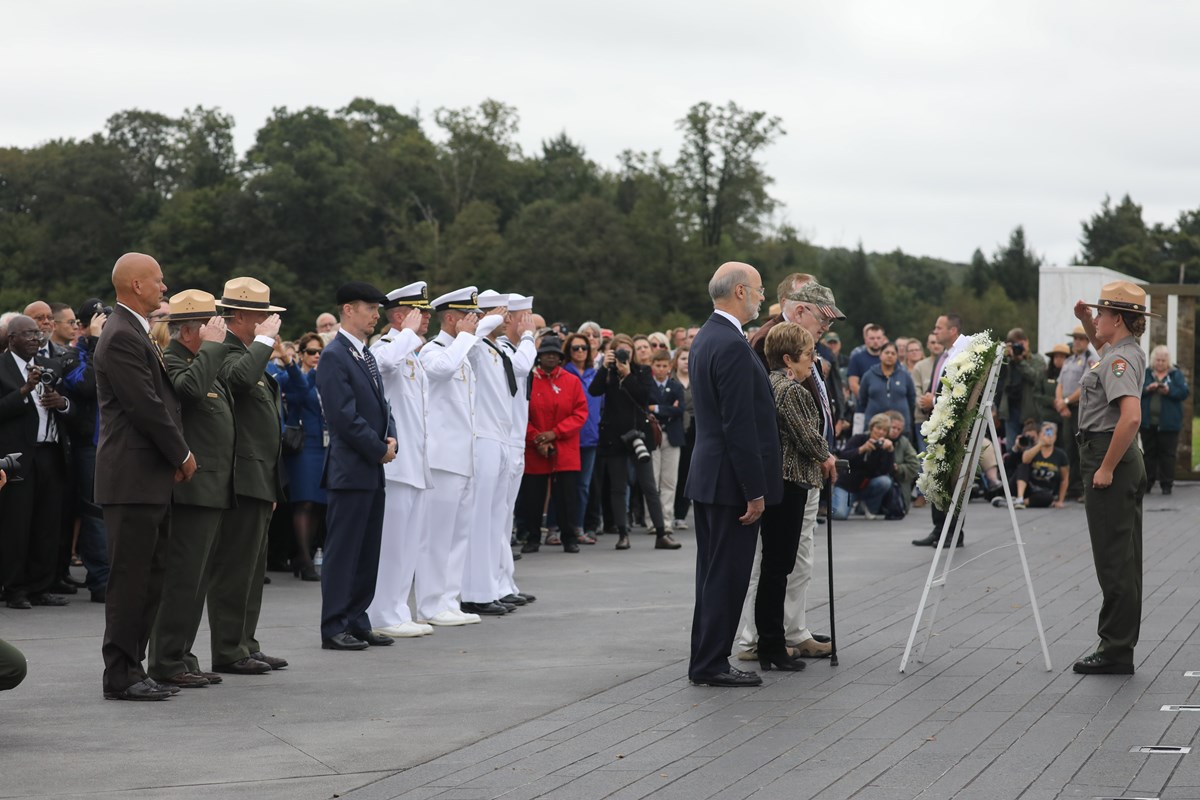 General Information
The National Park Service, along with the Families of Flight 93, Friends of Flight 93 National Memorial, and National Park Foundation will host the Nineteenth Anniversary Observance on Friday, September 11, 2020 at 9:45 am.

The following event will take place outdoors, and will be held rain or shine. The ceremony will take place in a field and requires walking on mown grass and on uneven ground. Dress for the weather with rain gear as needed. Please plan accordingly. In the event of severe weather, elements of the programs are subject to change or cancellation.

Ceremony
The 19th annual September 11 Observance will begin at 9:45 a.m. on Friday, September 11, with the location to be determined. At 10:03 a.m. – the moment Flight 93 crashed – the names of the passengers and crew members will be read and the Bells of Remembrance will be rung in their memory.

Prohibited Items
Maintaining your safety is a responsibility we take seriously. There are certain items that will be prohibited from the event grounds including:
Aerosols
Ammunition
Animals other than service/guide animals
Backpacks and bags exceeding 18" x 13" x 7"
Balloons
Bicycles
Coolers
Drones & other unmanned aircraft systems
Explosives
Firearms
Explosives
Firearms
Glass, thermal, or metal containers
Laser Pointers
Mace/Pepper Spray
Portable Chairs
Packages
Selfie Sticks
Signs exceeding 20" x 3" x 14" made of anything except cardboard, posterboard, or cloth
Toy guns
Weapons of any kind
Any other items determined to be potential safety hazard
Thank you for your cooperation. We look forward to having you at our event.

Arrival and Parking
Arrive via the entrance on US Route 30. Drive along the main road--Approach Road--toward the visitor center. Signs and NPS staff will direct visitors to parking areas. Plan plenty of time to park, catch the shuttle, and arrive on site.
Directions are available here, and maps of the site and area can be found here.

Due to weather conditions and security measures, the memorial will be unable to accommodate parking large RVs for the ceremony.

Tributes
Small tributes may be left in the niches along the Memorial Plaza and at the wall of names. Large tributes will not be permitted. A wreath laying must be arranged in advance.

Last updated: April 15, 2020