Basic Information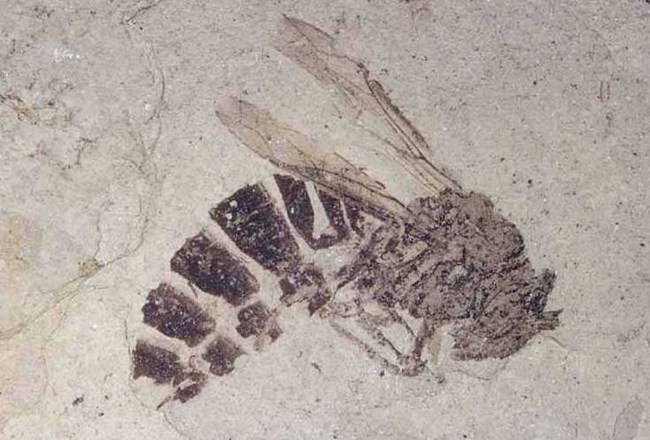 Florissant Fossil Beds National Monument was set aside to protect one of the richest fossil deposits in the world. It was established in 1969.
Location:
35 miles west of Colorado Springs (1 hour drive), near the town of Florissant, CO.
Features:
Massive petrified tree stumps of redwood trees. Several of these are located behind the Visitor Center, and along 1-mile and 1/2-mile self-guided trails.
Detailed fossils of insects, leaves, seeds, fish, and a few mammals and birds. Most are still buried underground, not visible from the trail, as they are easily destroyed by weathering. Excavated specimens are best seen in the Visitor Center exhibits.
15 miles of hiking trails.
1878 historic homestead.
Activities:
Explore the exhibits in the Visitor Center, including a collection of delicate insect, leaf, and fish fossils.
Tour the massive petrified tree stumps in the outdoor exhibit area behind the Visitor Center, and along the 1-mile and 1/2-mile self-guided interpretive trails.
View the park film (18 minutes long; available in the Visitor Center theater).

Participate in the

Junior Ranger program

- a free program for kids. Complete activities in the Junior Ranger Book and earn a badge!

Hike on our network of 8 interconnected hiking trails (15 miles total).
Visit the grounds of an 1878 homestead.
Have a picnic at the Visitor Center picnic area or the Barksdale picnic area.
Attend a Night Sky stargazing program.
Attend a wide variety of Ranger guided programs in the Summer - see our Calendar.
Pets are prohibited in the Visitor Center and on trails. This is for the safety of the wildlife as well as for the safety of your pets.
Pets are allowed in the parking lot and in the designated pet exercise area, by the Visitor Center's picnic area. Pets must be on a leash at all times.
There is very little shade in our parking lot. Please do not leave pets locked in a hot car! It may be best to leave your pet at home if you can, especially on warm days.
Last updated: October 15, 2022