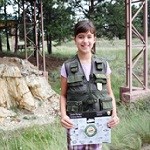 Junior Ranger Activity Book
Earn a junior ranger badge by obtaining our Junior Ranger Activity Book from the visitor center. Complete the activities in the book and then check in with a ranger at the desk. The average time for kids to complete the junior ranger book is 2 hours.

To Earn Your Junior Ranger Badge:
4 - 7 year olds complete 3 pages; 8 - 10 year olds complete 5 pages; 11 years and older complete 7 pages
When you are finished, bring your book back to the Visitor Center to receive your badge.
You can download the Junior Ranger book or if you are interested in receiving the Junior Ranger book by mail please contact flfo_information@nps.gov to request one.