Indoor Activities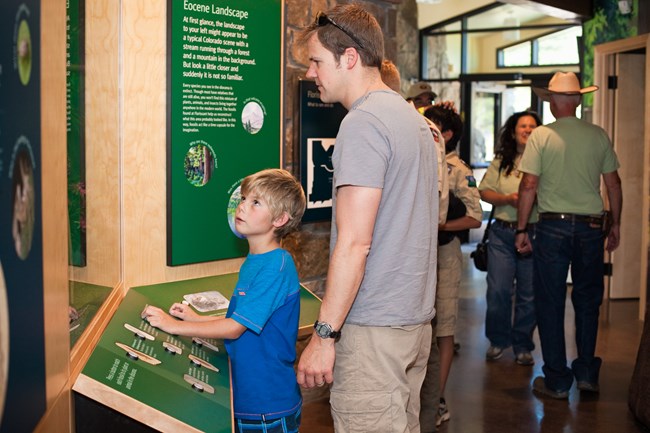 Visitor Center
Start your journey into the past in the visitor center. At the visitor center desk you can meet with a ranger, get orientation information, pay your fee, and plan your visit.
Film
"Shadows of the Past" is a 14 minute orientation film, which can be viewed on request between Labor Day and Memorial Day. During the summer it is shown every 20 minutes on the hour.
Exhibits
Enjoy a variety of hands on exhibits about fossils and science. The exhibit area is the only site in the park to see the fragile insect and leaf fossils, so make sure to drop by.
Bookstore
The Rocky Mountain Conservancy runs a small bookstore which has a variety of books and a large kids section.
Fossil Learning Lab
During the summer typically in the afternoons, the yurt (large round tent in picnic area) is open as a fossil learning lab. Park rangers staff the lab and demonstrate how we find the smaller insect and leaf fossils. Discoveries happen before your very eyes. There are hands-on stations for families and youth to discover some of the varied and detailed fossils found at Florissant including a chance to use hand lenses and search pieces of shale to find your own fossils.


Last updated: January 29, 2016