Lobby > Exhibits > Scientific Research > Hydrothermal Research > Vital Signs of the Earth > A Mountain Turning Inside Out > Nature's Sculptors
Hydrothermal Research
NATURE'S SCULPTORS

Differing conditions exist along the flow path of the hot springs at Mammoth, including temperature, flow rate, slope, water chemistry, and objects in the water's path.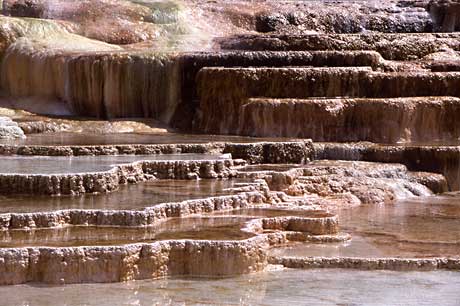 These conditions create specific environments for different microbial communities. Over 88 percent of the microbes found in one section may be different from those found in the next.
The microbes in various environments may become coated with calcium carbonate. Biology turns into geology and unique travertine architecture is created.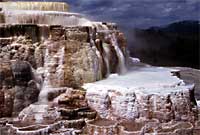 Microbes entombed by rapid mineral deposition leave behind evidence of their shapes. Modern "biological signatures" may be compared to those found in ancient deposits and provide clues to past environments.
These biological signatures may also provide scientists with a better understanding of how to recognize similar signatures of life on distant planets.
HOW WE KNOW WHAT WE KNOW
Observations
Temperature Probes
Geochemistry Studies

Water Sampling
Microbe Collection and Study
DNA Technology (PCR Amplificiation)
Next | 1 > 2 > 3 > 4 > 5 > 6 | Return to: Scientific Research