Lobby > Exhibits > Scientific Research > Hydrothermal Research > Vital Signs of the Earth > A Mountain Turning Inside Out
Hydrothermal Research
A MOUNTAIN TURNING INSIDE OUT

Q. Why are there no geysers at Mammoth Hot Springs and why does this area look different than the Upper Geyser Basin?
A. At times, more than 100 hot springs exist in the Mammoth area, but not a single geyser. The underground water temperature at Mammoth is not hot enough to generate the explosive energy needed by these hydrothermal marvels. Hot water sculpture in overdrive, microorganisms, and different underlying bedrock give the Mammoth area a unique appearance.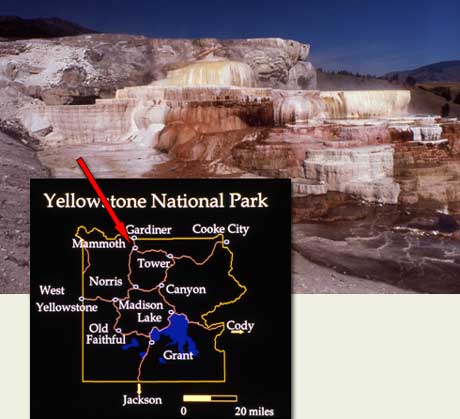 Next | 1 > 2 > 3 > 4 > 5 > 6 | Return to: Scientific Research