Lobby > Exhibits > Scientific Research > Hydrothermal Research > Vital Signs of the Earth > A Cross Section of a Hydrothermal System
Hydrothermal Research
CROSS SECTION OF A HYDROTHERMAL SYSTEM

Hydrothermal activity supplied hot water, steam, and gases, altering the rhyolitic rocks. The altered rock became softer, more colorful, and more susceptible to erosion.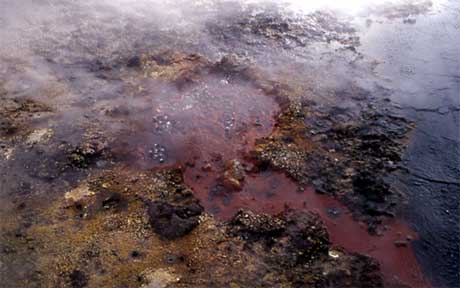 Many millennia later, an ice cap covered the area. The weight of the ice allowed the underlying thermal water to reach higher temperatures, causing even faster alteration of the rhyolite.
As the ice melted about 16,000 years ago, a colorful paleo-canyon was exhumed. Erosion, mostly by water, increased its dimensions to form the current Grand Canyon of the Yellowstone.
You need to upgrade your Flash Player
1.) Observation
2.) Minerology Studies
3.) Dating Techniques: Scientists use a variety of techniques (cosmogenic exposure dating, argon/argon dating, potassium/argon dating, carbon-14 dating/beryllium-10 dating) to determine the age of different rocks and sequence the events involved in the canyon's formation.

Next | 1 > 2 | Next Section: A Mountain Turning Itself Inside Out