Travel Back in Time at Everglades National Park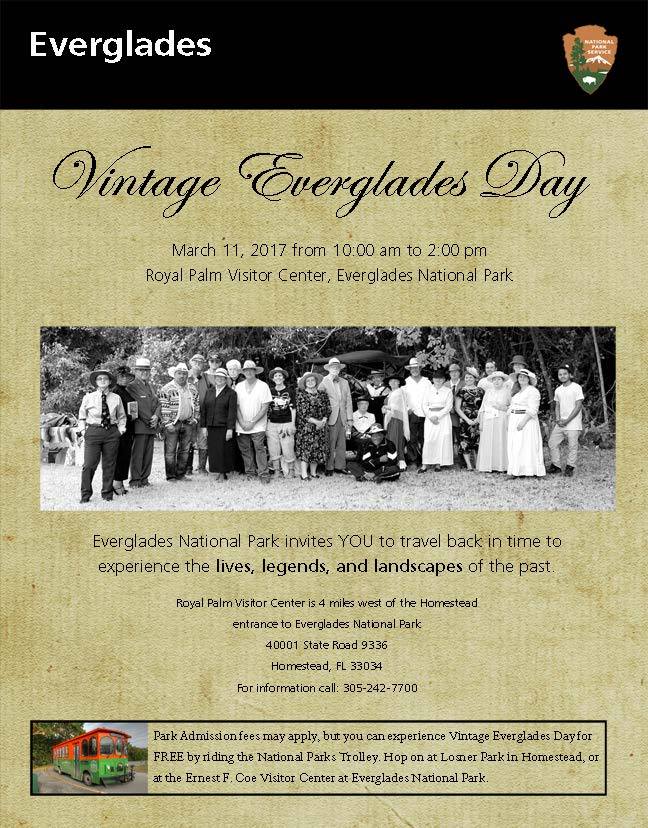 News Release Date:
February 17, 2017
Contact: General Park Information, 305-242-7700
Contact: Media Queries, 786-481-7592
HOMESTEAD, Fla. - The 7th annual Vintage Everglades Day celebration will be held in Everglades National Park on Saturday, March 11th, 2017, from 10 a.m. to 2 p.m.
Visitors of all ages are invited to interact with costumed characters representing the lives, legends, and landscapes that shaped the Everglades as we know it today.  There will also be special tours and presentations by local authors and historians.
Time travelers can complete a souvenir stamp collection by chatting with the likes of Henry Flagler, Napoleon Bonaparte Broward, Marjory Stoneman Douglas, Guy Bradley, Ernest Coe, and Zora Neale Hurston. Also represented will be early botanists, gladesmen, plume hunters, conservationists, land developers, and Cold War era soldiers. There will be exhibits from the Ah-Tah-Thi-Ki Museum, the Pioneer Museum, and the Historic Homestead Town Hall Museum.
Speakers will include historian Cesar Becerra who will present his research on the history of Loop Road and playwright Sandy Riley who will chronicle the early efforts to preserve Paradise Key.
Guided tours of the old Royal Palm State Park will also be available. This historical area was owned and protected by the Florida Federation of Women's Clubs in the first half of the twentieth century and became the nucleus for Everglades National Park. There will also be a bird walk, botanical tours of the Gumbo Limbo Trail, and a special tour of the Nike missile base.
Park entrance fees apply except for those arriving by trolley. Two trolleys are available on Vintage Everglades Day. Visitors can either hop on the regular Saturday Homestead National Parks Trolley at Losner Park in Homestead or park their cars at the Ernest F. Coe Visitor Center and take a special trolley to Royal Palm.
Vintage Everglades Day was first held in 2010 to highlight the rich cultural history of the Everglades ecosystem. For additional information on this year's event, visit:  https://www.nps.gov/ever/planyourvisit/vintage-everglades-day.htm
WHAT: 7th Annual Vintage Everglades Day
WHEN: Saturday, March 11, 2017, 10am – 2pm
WHERE: Royal Palm Visitor Center, Everglades National Park
-NPS-
Last updated: February 17, 2017