News Release
History of the Everglades Comes Alive March 3!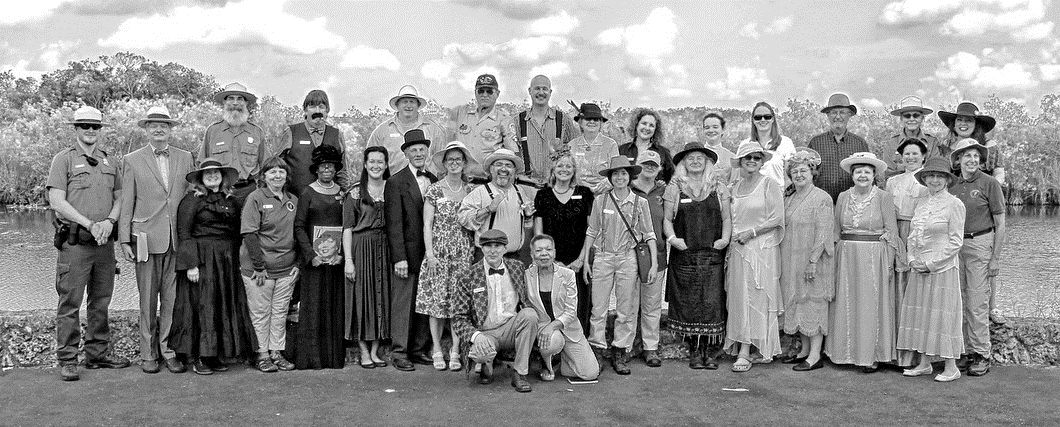 News Release Date:
February 20, 2018
Contact: General Park Information, 305-242-7700
Contact: Media Queries, 305-242-7714
HOMESTEAD, Fla. -  The 8th annual Vintage Everglades Day will bring alive the past on Saturday, March 3, at Everglades National Park! This year's celebration will highlight how the Everglades' rich history has been told through art, music, and literature.
There will be activities for guests of all ages to enjoy, including a concert, a play, special tours, and presentations by local artists and writers. Guests can even create their own Everglades masterpieces with assistance from professional musicians, poets, and watercolor artists.
Visitors will interact with costumed characters representing those who shaped the Everglades as we know it today – including Henry Flagler, Marjory Stoneman Douglas, Napoleon Bonaparte Broward, Zora Neale Hurston, Guy Bradley, and early activists from the Florida Federation of Women's Clubs. Others will share the stories of less famous, but ever important, farmers, loggers, dredgers, and hunters of plumes, orchids, and snails – yes, orchids and snails!
The Ah-Tah-Thi-Ki Museum and other local museums will have exhibits on display. Guest speakers will include author and activist Audrey Peterman, historian and author Cesar Becerra, and musical conductor Mary Adelyn Kauffman. Grant Livingston, Miami's "historian in song" will perform at noon.
The hub of the day's activities is the Royal Palm Visitor Center, but at 2:30 pm, there will be a dramatic reading of Sandra Riley's play Footprints: Mary Barr and Kirk Munroe's Love Letter to Florida, at the Ernest F. Coe Visitor Center. Guests can also enjoy the AIRIE Nest exhibit of Christina Pettersson's The Unavoidable Twilgiht, as well as an exhibit of children's art, at the Coe Visitor Center.
Park guests who leave their cars at the Ernest F. Coe Visitor Center will be admitted free to the park as they ride a special trolley back in time to Royal Palm. There is also a free trolley from Losner Park in Homestead beginning at 9:00 am.
For additional information, contact park information at 305-242-7700 (during regular business hours, Monday-Friday, 8:00 a.m. – 4:30 p.m.).
WHAT: Eighth Annual Vintage Everglades Day where park visitors can explore the human history of Everglades National Park.
WHEN: Saturday, March 3, 2018, from 10:00 a.m. to 4:00 p.m.
WHERE: Ernest F. Coe Visitor Center and Royal Palm Visitor Center at Everglades National Park near the Homestead entrance to the park.
Visitors coming from the Miami area and points north should take the Florida Turnpike (Route 821) south until it ends merging with U.S. 1 at Florida City. Turn right at the first traffic light onto Palm Drive (State Road 9336/SW 344th St.) and follow the signs to the park. Visitors driving north from the Florida Keys should turn left on Palm Drive in Florida City and follow the signs to the park.
For more information about what you can see and enjoy at Everglades National Park, please visit www.nps.gov/ever.  
-NPS-
 About the National Park Service: More than 20,000 National Park Service employees care for America's 417 national parks and work with communities across the nation to help preserve local history and create close-to-home recreational opportunities. Learn more at www.nps.gov or follow us on Facebook, Twitter and YouTube.
Last updated: February 21, 2018