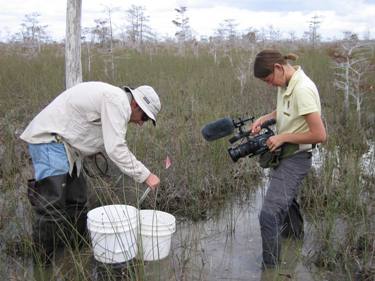 News Release Date:
June 24, 2011
Contact: Program Manager Greg Litten, 305-242-7878
Contact: Park Information, 305-242-7700
Contact: Media Contact - Linda Friar, 305-242-7714
In Brief  __________________________________________________
Who:Park Videographer and Interpretive Staff
What:

Expanded free video products to help visitors plan their visit or experience the park virtually

When: Over a year of production and field work.

Where:
Youtube 
, 
Park Website,
Itunes Plan Your Visit 
Itunes Glades Glimpse 
How:
Staff videographer Jennifer Brown with support from Interpretive Division and funding from Park Friends Group
South Florida National Parks Trust
produced these great videos free to the public!
_____________________________________________________
Everglades National Park is pleased to announce an expanded video and podcast program. Two incredibly exciting video series first introduced on the park's website (www.nps.gov/ever) are now available as podcasts through iTunes.
 All of the park's podcasts on iTunes and Youtube include open-captioning for accessibility, a likely first for any national park. Anyone with a digital media player like a smart phone, computer, iPod or internet TV can use these videos and podcasts for free. "
The goal of the Park's podcast and video program is to share the Everglades experience with anyone in the world. The podcast videos are great to use either at home or to take with you to enhance your park visit"
says Superintendent Dan Kimball.
The "Plan Your Visit" series is designed to inform people planning their trip to the park and focuses on park facilities and activities. In these podcasts, rangers highlight different places in the park where visitors can explore, relax, recreate, or stay overnight. The educational "Glades Glimpse" series includes a range of park staff sharing their knowledge about habitats, human stories, and unique experiences in the Everglades. (See links In Brief above)
Brand new to the park website is the series, "Video Clips" which provides high quality B-roll footage for school, research or media purposes. This series has dozens of video clips ranging from aerial shots, habitat, wildlife, visitor activities and videos of guest speakers giving insider perspectives on natural and cultural resources.
Also on the park website is the "Park Partners" series featuring short documentaries, orientation movies, and TV shows about the Everglades' ecosystems. These episodes from WPBT2, the Discovery Channel, and Keys Digital Video Production Company have been produced in co-operation with Everglades National Park.
All the Park's video episodes are available at:

https://www.nps.gov/ever/photosmultimedia/videos.htm
Funding for some of the media training, staffing and equipment has come from generous donations from the South Florida National Parks Trust.
For more information on the park's podcasting program, contact Greg Litten at 305 242-7878 or
e-mail us