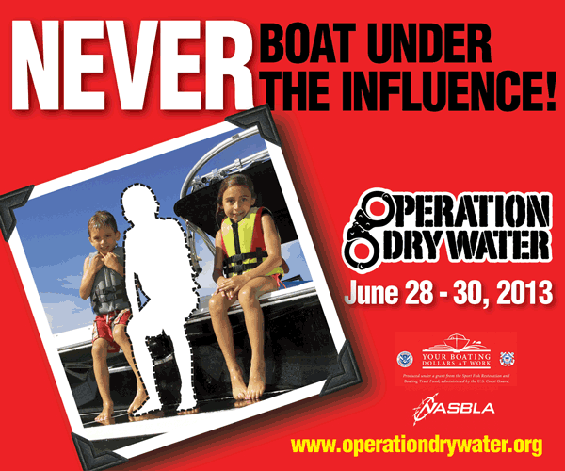 News Release Date:
June 20, 2013
Contact: General Park Information, 305-242-7700
Contact: Media Contact: Linda Friar, 305.242.7714
Contact: Mary Plumb, 305-242-7017
 HOMESTEAD, Florida – Everglades National Park will be participating in Operation Dry Water June 28-30, as part of a nationally coordinated effort to reduce the number of accidents and fatalities related to Boating Under the Influence (BUI). The mission of Operation Dry Water also brings awareness and education to recreational boaters about the dangers of alcohol and drug use on the water. 
During Operation Dry Water, being held the weekend of June 28-30, officers will be out in force looking for boaters whose blood alcohol content exceeds the state limit of .08. This weekend will include increased patrols as well as boater education. Impaired boaters can expect to be arrested or face other serious penalties. In Everglades National Park the consequences for BUI includes fines up to $5,000 and up to six months in jail.
"We are dedicated to keeping boaters safe on our waters. Boating is a safe and enjoyable pastime when people stay alert and follow the rules," says Superintendent Dan Kimball. "You will see our officers from Key Largo and Flamingo out on the water in Florida Bay, and from our Gulf Coast District in Everglades City, ensuring that everyone can enjoy a day of safe boating.  They will be looking for boaters who are operating a vessel under the influence."

Boating under the influence of drugs or alcohol continues to be a major problem across the nation. U.S. Coast Guard data reveals that alcohol is the primary contributing factor in recreational boating fatalities[i]. Intoxicated boat operators and passengers run a significantly increased risk of being involved in a fatal boating accident.

Operation Dry Water is a nationwide education and enforcement initiative launched by the National Association of State Boating Law Administrators (NASBLA) in 2009 in partnership with the U.S. Coast Guard.

Operation Dry Water 2013 is a joint program of Everglades National Park, the National Association of State Boating Law Administrators, the U.S. Coast Guard and the U.S. Fish and Wildlife Service. For more information, visit www.operationdrywater.org.

###
The National Association of State Boating Law Administrators is a national nonprofit organization that works to develop public policy for recreational boating safety. NASBLA represents the recreational boating authorities of all 50 states and the U.S. territories. NASBLA offers a variety of resources, including training, model acts, education standards and publications. Through a national network of thousands of professional educators, law enforcement officers and volunteers, NASBLA affects the lives of over 83 million American boaters. 
The United States Coast Guard is a military, multi-mission, maritime service within the Department of Homeland Security and one of the nation's five armed services. Its core roles are to protect the public, the environment, and U.S. economic and security interests in any maritime region in which those interests may be at risk, including international waters and America's coasts, ports, and inland waterways.
About the National Park Service. More than 20,000 National Park Service employees care for America's 401 national parks and work with communities across the nation to help preserve local history and create close-to-home recreational opportunities. Learn more at www.nps.gov.