News Release
Everglades Fire Crews Receive Assistance from South Florida Water Management District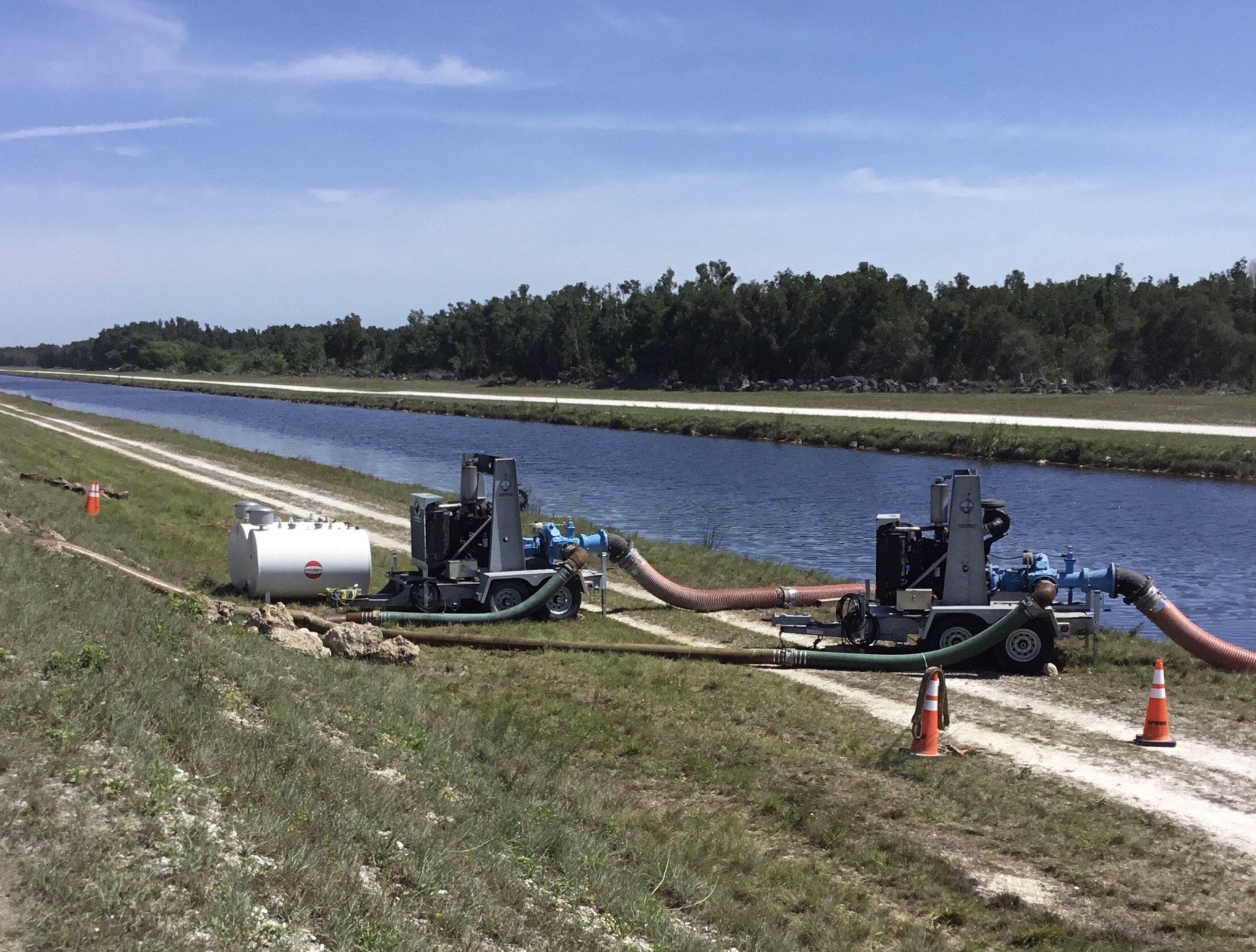 News Release Date:
April 22, 2020
Contact: Allyson Gantt, 786-610-8023
Homestead, Fla. – With lighter winds out of the north today, fire crews continue to make significant progress on containing the Sunday Afternoon Fire in Everglades National Park. Today's aerial reconnaissance showed almost no additional growth. Containment of the fire has increased to 35%, up from 20% yesterday on park lands and 80% on state lands. The fire remains at approximately 1,291 acres.
Additionally, the South Florida Water Management District (SFWMD), in partnership with the US Army Corps of Engineers, is assisting Everglades National Park and the Florida Forest Service with controlling the fire by modifying water management operations. SFWMD has closed the G-211 water structure in the L31N canal to temporarily raise regional ground water levels by about a foot along the eastern edge of the fire. They have also installed temporary pumps to move water from the canal over the levee and into the park. The purpose of these efforts is to keep the marsh wet enough to prevent the vital peat soil from burning and to reduce smoke impacts to surrounding communities from heavy vegetation that is still burning.
With the assistance of the northerly winds today, aerial and ground crews continued to secure the western perimeter of the fire as well as patrolling the eastern edge. The state is patrolling the south side with two bombardiers. The fire continues to burn actively in the interior where heavier pockets of fuels remain.
Although wind direction has shifted today, the surrounding communities in Miami-Dade and Broward counties may continue to experience smoke from the wildfire. Drivers should use caution when smoke is on the road. Individuals with respiratory conditions should stay indoors when smoke is present.
The Sunday Afternoon Fire started on April 19 just south and east of the Everglades National Park boundary, north of SW 112 Street and west of the L31 N Canal Road in the Fire Mutual Response Zone (MRZ), an area where the National Park Service shares fire response with the Florida Forest Service. The wildfire then spread into the northeastern part of the Park, approximately 5 miles south of US Highway 41. The fire is actively burning in sawgrass prairie, brush, and invasive Australian pine and melaleuca in Everglades National Park and on state lands.
The cause of the fire remains under investigation.
In addition to Everglades Fire and Aviation, personnel from Big Cypress National Preserve, Alaska Fire Service, Florida Forest Service, South Florida Water Management District, US Forest Service, Bureau of Indian Affairs, Great Smoky Mountains National Park and aviation resources from the Silver King Fire are assisting.  
As a reminder, South Florida is currently experiencing hot, dry conditions typical of this time of year. Everyone can help prevent wildfires by fully extinguishing cigarettes, reporting smoke and fire immediately, and carefully monitoring and fully extinguishing any outdoor fires.
Last updated: April 22, 2020