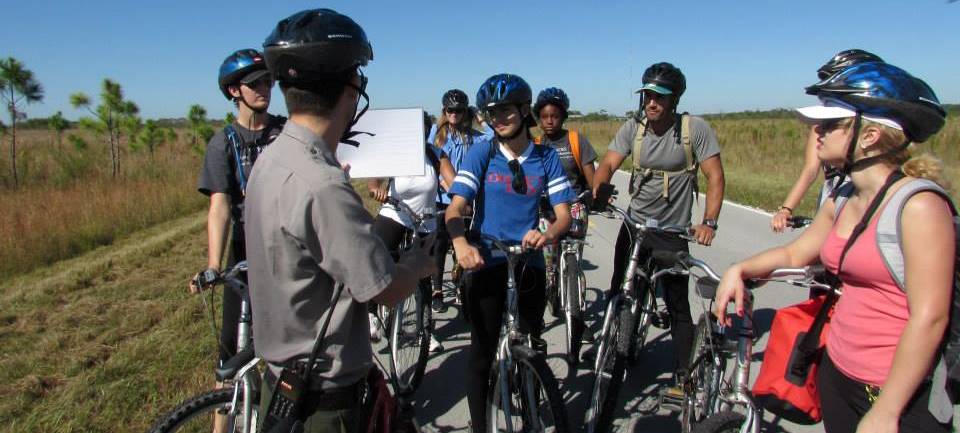 News Release Date:
October 20, 2015
Contact: General Information, 305-242-7700
Contact: Shark Valley Reservations, 305-221-8776
Contact: Media Contact Linda Friar, 305-242-7714
Come join park rangers this Halloween for a 15-mile round trip bike ride along the Shark Valley Loop. The bike ride will begin at 5:30 p.m., and will reach the Observation Tower by sunset. Then the group will return through dusk and enjoy listening to the sounds of the Everglades--eerie natural sounds instead of scary sounds! Who knows what animals will be seen (or heard) along the ride as well! 
The limit is 25 people, first come first served; please call the Shark Valley Visitor Center to make reservations (305-221-8776). Please have all proper safety gear (including your own bicycle and helmet). Please bring water (1 gallon per person recommended).  Riders are also advised if bringing a head light, to have it be adjustable to shine down instead of out.
Come join us at Shark Valley for a fun bike ride, and a "healthy" way to spend Halloween night!
WHAT:Join park rangers for a 15-mile round trip bike ride along the Shark Valley Loop. 
WHEN: Saturday, October 31(beginning at5:30 p.m., and lasting approximately 3 hours from start to finish.  Please arrive at 5:00 p.m. so the group can start at the designated time.
WHERE: Everglades National Park, Shark Valley Visitor Center – located on U.S. Highway 41 (Tamiami Trail) between Miami and Naples, about 25 miles west of the Florida Turnpike in Miami.
(Click here for directions:https://www.nps.gov/ever/planyourvisit/svdirections.htm