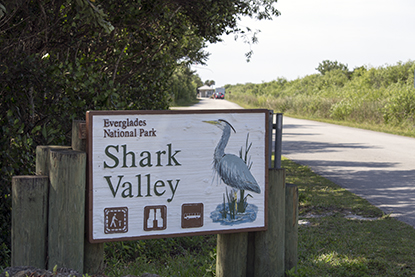 NOTE: VISITORS ARRIVING BY UBER -
Due to the remoteness of this area we are finding that visitors arriving by UBER transportation are unable to acquire a return UBER, we suggest checking with your driver for return arrangements or have an alternative taxi option. There is no other public transportation to this site.
Directions to Shark Valley Visitor Center
36000 SW 8th Street. Miami, FL 3319
Approximate GPS Coordinates:25°45'27.60" N 80°46'01.01" W
From Miami, Shark Valley Visitor Center is located on Highway 41 (Tamiami Trail / SW 8th St.) 25 miles west of the Florida Turnpike, exit 25A (from the north) and exit 25 (from the south).

From the Naples area, take U.S. 41 (Tamiami Trail) approximately 70 miles east to Shark Valley.
Hours of Operation
8:30 a.m. - 5:00 p.m. Mid-December - Mid-April
9:00 a.m.- 5:00 p.m. Mid-April - Mid-December
Hours are subject to change. Contact by phone 305-221-8776.
Amenities
Shark Valley Visitor Center offers educational displays, a park video and informational brochures. Books, postcards, and other souvenirs are available in the gift store.
Guided tram tours, bicycle rentals, snacks and soft drinks are available from Shark Valley Tram Tours, Inc.
Two short walking trails (one accessible), are located off the main trail for your enjoyment.
Restrooms are available.