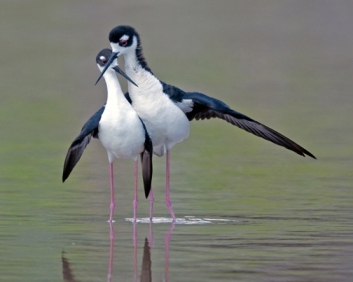 News Release Date:
April 11, 2012
Contact: General Park Information, 305-242-7700
Contact: Media Contact - Linda Friar, 305-242-7714
There's always something new and interesting to see or hear - so get outdoors and experience the Everglades! The Ernest F. Coe Visitor Center Art Gallery in Everglades National Park is currently hosting a collection of stunning wildlife photography by Kevan and Linda Sunderland at the Visitor Center Gallery.
Kevan and Linda Sunderland have been photographing Florida's wonderful wildlife for over thirty years. Their knowledge of Florida's flora and fauna from their biology backgrounds have given them special insights and expertise about the lives of the subjects they photograph. Their love of Florida's ecology shows in the style of photographs they take. Kevan and Linda feel that each image you see in one of their exhibits should leave a lasting impression.
This year, one of the Sunderland's photographs was judged as one of the top 100 wildlife photographs taken in North America. Their photographs have also appeared in many magazines, including: Florida Wildlife, Wisconsin Wildlife, Wild Bird, Audubon, Nature's Best Photography; in Everglades National Park and US Fish and Wildlife publications among others. When not taking photographs or offshore in a boat in South Florida, Linda works for Broward County as the Aquatic & Wetland Resources Manager. Kevan is a 29 year veteran of the Sunrise Fire Department in Broward County.
The exhibit will be on display at the Ernest Coe Visitors Center gallery, 40001 State Road 9336, Homestead, Florida, through April 30, 2012; daily from 9 a.m. to 5 p.m. Admission is free.