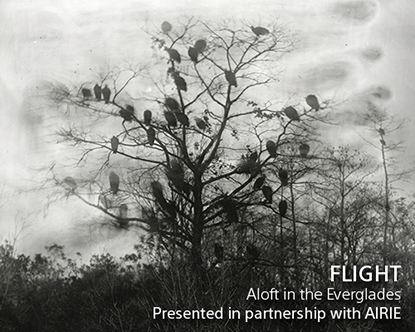 News Release Date:
April 30, 2014
Contact: General Park Information:, 305-242-7700
Contact: Media contacts only: Linda Friar, 305-242-7714
Contact: AIRIE press contact: Deborah Mitchell, 305-978-5983
HOMESTEAD/MIAMI, Florida: Everglades National Park is pleased to announce the opening of, "Flight: Aloft in the Everglades," the next exhibit in a series of special Artists in Residence in the Everglades (AIRIE) exhibitions highlighting Everglades National Park's international designation as a World Heritage Site. 
This exhibit opens on Miami Beach May 3 and runs through July 6, 2014. The exhibit is a collaboration between the park, AIRIE and Art Center/South Florida.
AIRIE is a volunteer program that brings artists to the park for a month where they live and work immersed in the ecological and cultural resources of the River of Grass.  This exceptional program is competitive and only 12 artists are selected for this unique opportunity each year.
AIRIE artists and writers in this exhibition include Wendy Call, Lisa Elmaleh, Naomi Fisher, Gustavo Matamoros, Adam Nadel, Trong Nguyen, Rebecca Reeve, Nathaniel Sandler and Susan Silas. Their works explore many facets of their cultural experience of nature in this World Heritage Site.
The exhibit is named, "Flight: Aloft in the Everglades," to reflect this special collection of AIRIE art where the artists consider the Everglades through aerial views of suburban encroachment, birds taking wing, the ethereal nature of wind, and even the stark contrast of nuclear missiles housed deep in the wilderness.


Free and open to the public, the opening reception is being held on Wednesday, May 7, (7:00 to 10:00 p.m.). A panel "artist's conversation" is being planned forJune 18, beginning at7:00 p.m. The art work will remain on display at the ArtCenter/South Florida through July 6, 2014.
"Everglades National Park is proud of our World Heritage designation," said Acting Superintendent Shawn Benge. "This recognition highlights the international importance of this unique resource as one of the globe's most significant cultural and natural areas. Aspects of this very special place have been captured by talented artists and I hope that all will take time to experience this unusually engaging and creative depiction of the World Heritage values of the park."
The AIRIE exhibit will travel to four south Florida universities, including a special showing at the park's Ernest Coe Visitor Center Gallery.
WHAT: "Flight: Aloft in the Everglades" - An exhibition hosted by ArtCenter/South Florida to present AIRIE artists' experiences in a World Heritage Site. 
WHEN: ON VIEWMay 3 - July 6, 2014          
OPENING RECEPTION: Wednesday, May 7, 2014, 7:00 -10:00 p.m.
ARTISTS' CONVERSATION:June 18, 2014, 7:00 p.m.
WHERE:ArtCenter/South Florida's Richard Shack Gallery, 800 Lincoln Road, Miami Beach, FL 33139. For more information on this event at ArtCenter/South Florida, please contact: Susan Caraballo, 305- 674-8278 (office) or 786-663-6740 (mobile)scaraballo@artcentersf.org
BACKGROUND: This is the second in a series of special art exhibitions highlighting AIRIE artists' experiences in a World Heritage Site. The kickoff was held at Miami Dade College in Homestead, November 11 to December 13, 2013.
Current Schedule for AIRIE: Artists' Experiences in a World Heritage Site:
·        ArtCenter/South Florida, Miami Beach, FL -May 3 - July 6, 2014.
·        Florida Atlantic University - September 14 to October 14, 2014.
·        Museum of Florida Art and Culture at South Florida Community College, Avon Park, FL - November and December 2014, or January and February 2015.
ABOUT WORLD HERITAGE SITES
Everglades National Park was designated as a United Nation's Education, Scientific and Cultural Organization (UNESCO) World Heritage Site in 1979. World Heritage Sites demonstrate the importance, for all the peoples of the world, to safeguard a unique and irreplaceable property. For more information about World Heritage Sites, please visithttp://whc.unesco.org/en/about/
-EVER-
About the National Park Service: More than 20,000 National Park Service employees care for America's 401 national parks and work with communities across the nation to help preserve local history and create close-to-home recreational opportunities. Learn more at www.nps.gov.