Water Quality
The following water-quality publications are available for download.

South Florida Natural Resources Center: Water Quality Program
Hi-Res, 4.6 MB | Lo-Res, 1.1 MB

Water Quality Program: Cooperative Science
Hi-Res, 1.6 MB | Lo-Res, 1.2 MB

Indicators of Ecosystem Response to Hydrologic and Nutrient Change in Northeast Shark River Slough
(PDF, 215 KB)

Sampling Methodologies for Monitoring Water Quality at ENP Inflows
(PDF, 351 KB)

S-332 Detention Basins: Understanding Phosphorus Transport into Everglades National Park
(PDF, 239 KB)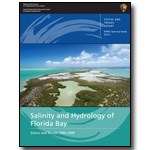 Salinity and Hydrology of Florida Bay: Status and Trends 1990-2009
SFNRC Technical Report 2012:1
This report focuses on factors that influence salinity, which is recognized as the primary driver of ecological conditions in Florida Bay.
Download the report here (PDF, 3.7 MB).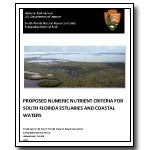 Proposed Numeric Nutrient Criteria for South Florida Estuaries and Coastal Waters
Everglades National Park has worked closely with the U.S. Environmental Protection Agency and the Florida Department of Environmental Protection on the numeric nutrient criteria for south Florida estuaries and coastal waters... more

Joint Report to Congress: Everglades Water Quality
2005
(PDF, 1.6 MB)
Last updated: February 16, 2018