Proposed Numeric Nutrient Criteria
SFNRC Home >> Proposed Numeric Nutrient Criteria for South Florida Estuaries and Coastal Waters
Everglades National Park (ENP) has worked closely with the U.S. Environmental Protection Agency (EPA) and the Florida Department of Environmental Protection (FDEP) on the numeric nutrient criteria for south Florida estuaries and coastal waters. The National Park Service has three large units in south Florida that will be directly affected by the proposed criteria: Everglades National Park, Dry Tortugas National Park, and Biscayne National Park. These parks contribute immensely to the ecological resources of the state and local communities by providing invaluable habitat to multiple wildlife species, serving as a nursery to valued commercial species of fish and shrimp, and offering exceptional recreational opportunities to national and international visitors.
Recently, FDEP amended Chapters 62-302 and 62-303, F.A.C., and received approval from the Environmental Review Commission and ratification from the State House. These amendments limit the amount of nutrients in surface waters by setting numeric criteria. The park supports the State's effort to develop numeric nutrient criteria for surface waters but considers that certain changes to the criteria and methodology are necessary.
Below is a brief summary of the park's comments.
Segments with elevated nutrient levels, by comparison to adjacent segments, should be considered unsuitable reference sites until further analysis of the data shows otherwise.
A combination of statistical tests and analysis of ancillary nutrient data should be used to identify potentially nutrient-enriched segments. These segments must not be used as reference sites to develop criteria because their current nutrient levels already may be high enough to cause degradation of flora and fauna.
The numeric nutrient criteria should include two limits. FDEP is proposing a single limit, which is an annual geometric mean not to be exceeded more than once in three consecutive years. The park is recommending that this limit be complemented with an annual geometric mean never to be exceeded. The purpose of the second limit is to avoid single, large exceedences -- which are allowed by the first limit -- capable of causing significant or even catastrophic adverse effects to the ecosystem.
FDEP's TN, TP, and Chla proposed limits are consistently greater than ENP's proposed limits and, consequently, could be less protective of the ecosystem.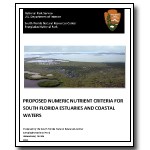 Request the Full Digital Report Here
Proposed Numeric Nutrient Criteria for South Florida Estuaries and Coastal Waters
March 2012
(PDF, 1.5 MB, 27 pages)
Questions and Comments
Questions regarding Proposed Numeric Nutrient Criteria can be directed to Dr. Joffre Castro.
Last updated: September 28, 2018