Amphibians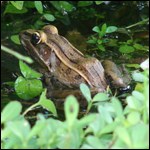 In the Everglades, the fine line between water and land often blurs. Consequently, the park serves as the perfect habitat for a number of amphibious species. Frogs and toads are particularly conspicuous and routinely serenade the landscape with a loud and unusual chorus.
Amphibian Chorus

Listen to a chorus of amphibians recorded at Shark Valley, which is located in the northern part of the park and accessible from the south side of the Tamiami Trail.

Credit / Author:

NPS Natural Sounds Program

Date created:

2020-10-14 00:00:00.0
Species List for Everglades National Park¹
E = Federally Endangered
T = Federally Threatened
I = Invasive/Exotic
U = Unknown
Order Anura (Frogs & Toads)

Common Name
Scientific Name
Status
Florida cricket frog
Acris gryllus
Oak toad
Bufo quercicus
Southern toad

Bufo terrestris

Greenhouse frog

Eleuthrodactylus planirostris

I

Eastern narrow-mouth toad

Gastrophryne carolinensis

Green treefrog
Hyla cinerea
Squirrel treefrog
Hyla squirella
Cuban treefrog
Osteopilus septentrionalis

I

Florida chorus frog
Pseudacris nigrata
Little grass frog
Pseudacris ocularis
Pig frog
Rana grylio
Southern leopard frog
Rana sphenocephala
Eastern spadefoot toad²
Scaphiophus holbrookii

U

Order Caudata (Salamanders & Newts)

Two-toed amphiuma

Amphiuma means

Peninsula newt
Notophthalmus viridescens
Everglades dwarf siren
Pseudobranchus axanthus
Greater siren
Siren lacertina
¹Meshaka, W.E., Loftus, W.F., and Steiner, T. (2000) The Herpotofauna of Everglades National Park. Florida Scientist, 63(2)84-103.
²Steiner, T., and Loftus, W.F. (1991) Amphibians & Reptiles of Everglades National Park. Miami: Everglades Association.
Last updated: May 28, 2021