CESI Assessment Project 97-5
Network Analysis of Trophic Dynamics in South Florida Ecosystems
Robert E. Ulanowicz, Cristina Bondavalli, Johanna J. Heymans & Michael S. Egnotovich

Food webs are the conduits through which energy flows through an ecosystem. A full understanding of predator/prey interactions, however, requires more than simply understanding who eats what. Rather, attempts to quantify these interactions can provide resource managers with valuable insights in how these systems function.
This four year CESI-funded investigation sought to reveal the trophic dynamics present in four distinct wetland ecosystems. Investigators conducted network analysis of freshwater prairies, mangrove forests, cypress swamps, and Florida Bay-- shedding new light on how energy and nutrients are cycled in each respective system.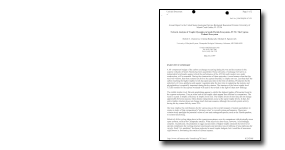 Final Report
(PDF, 10 MB)
Contact the principal investigator directly with questions about this study.
Trophic, Dynamics, Wetlands, Cypress, Florida Bay, Mangroves, ATLSS, Modeling, Network Analysis, CESI, Critical Ecosystem Studies Initiative, Ulanowicz, Bondavalli, Egnotovich, Heymans
Last updated: April 14, 2015