Support Your Park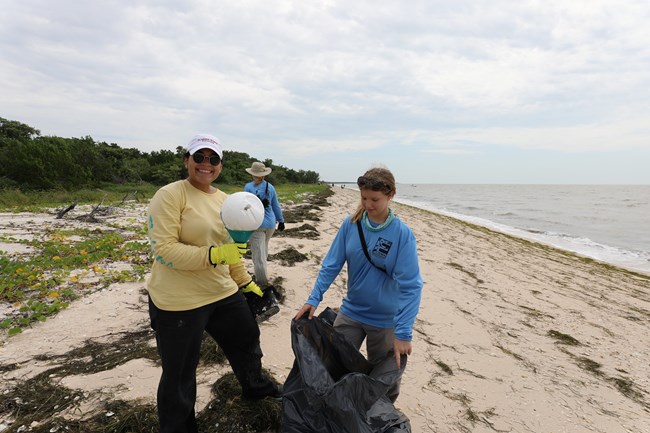 Your Support at Your Park
Supporting your favorite park can be as simple as picking up a single piece of trash during your stay, or as intense as a six-month-long commitment in the backcountry. Groups, associations, volunteers and everyday park visitors all have the potential to contribute in some way to the protection of our national treasures.

Public support is a critical component in the management of National Park Service lands. No other federal agency relies as heavily on the generosity and kindness of its visitors, volunteers, and donors and we thank you for your past support and look forward to future partnerships.
Ways to Support Your Park
Volunteer
As a volunteer-in-parks (VIP), you can support Everglades National Park by contributing your time in a wide array of opportunities. More...
Donate
Donations are accepted and can be directly designated to benefit a favorite program or the park in general. More...
Become an Association Member
Proceeds or donations gained through membership or through buying from the Florida National Parks Association go directly to supporting the South Florida National Parks including Everglades National Park. Members will receive a discount when purchasing at any Association gift store. More...
Everglades Institute
Proceeds from joining an Everglades Institute program go directly to supporting Everglades National Park. More...
Join Our Friends Group
The Alliance for Florida's National Parks works to ensure more people experience and learn about the resources protected by the park. Through five focused pillars of support, including environmental education, exploration, preservation & protection, restoration, and community engagement, The Alliance's work enriches the park experience and creates deeper connections between diverse communities and the nature that abounds in their backyards.

More information can be found at www.floridanationalparks.org.
Place a Park Exhibit at Your Facility
Everglades National Park has a suite of traveling exhibits and displays that can be featured at any facility in the local community. From schools and libraries, to shopping malls, banks, and hotels. Help us spread the word about the resources and opportunities at Everglades National Park. Click here to learn more!

Last updated: August 4, 2022