Park Exhibit At Your Facility
Everglades National Park has a suite of traveling exhibits and displays that can be featured at any facility in the local community. From schools and libraries, to shopping malls, banks and hotels. Help us spread the word about the resources and opportunities at Everglades National Park.
Below are the exhibits we have available that can be reserved. Each exhibit must be hosted at your facility for a minimum of 3 months. Click here to fill out a reservation request.
Semi-Permanent Roving Exhibit
3-sided exhibit is in English and Spanish. It weighs about 150 lbs, and takes 2-3 people to move around. Dimensions are about 90 inches tall by 42 inches wide.
Special Notes: Should only be installed on the first floor of buildings with double doors. There are three of these exhibits available for reservation.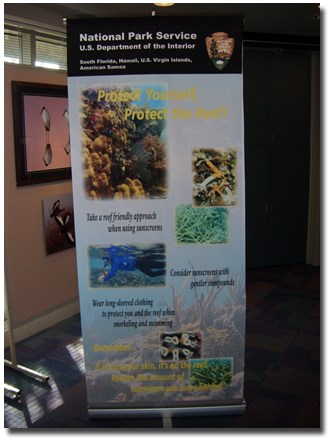 Coral Reef Roll Up Display
This roll up display stands about 8' tall. Very easy to install, and portable.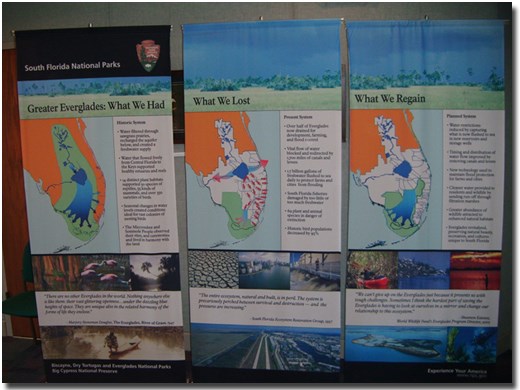 Water Flow Roll Up Display
This is a three part display, each stands about 8' tall. Very easy to install, and portable.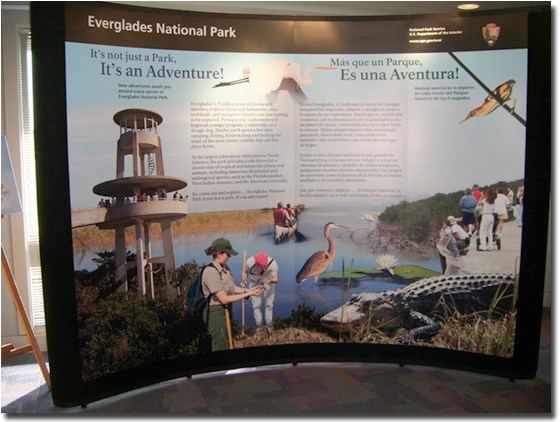 Everglades Large Wall Display
This display measures about 10' wide by 9' tall. It's very large, but easy to put together and install. Is has a light weight frame in the back, with panels that are installed over it. It may require two people to put together.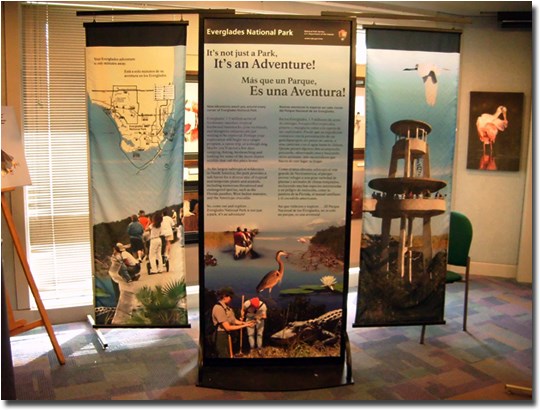 Everglades Hanging Banner Display
This display is both English and Spanish. It comes with a heavy base, and is put together from the bottom up. The front display is a panel, and the two side banners hang from clips.
Last updated: April 14, 2015