Every Kid In A Park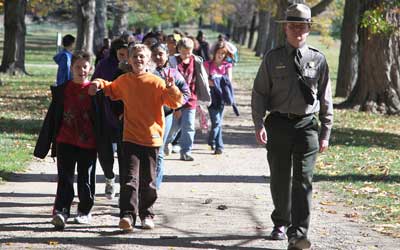 News Release Date:
September 1, 2015
Contact: Scott Rector, 845-229-9115 Ext. 2025
Hyde Park, NY –The Roosevelt-Vanderbilt National Historic Sites and other federally-managed places in the Hudson Valley invite all 4th graders to visit free as part of the White House's new Every Kid in a Park program. Starting today, students may go to
www.everykidinapark.gov
, complete an activity, and obtain a pass good through August 31, 2016. Passes will allow the student and his/her family free entry to more than 2,000 federal recreation areas including national parks.
"During the National Park Service's centennial celebration, we're especially eager to introduce a new generation of students and their families to the Roosevelts' legacy," said Superintendent Sarah Olson. "We have activities especially designed for kids like a Junior Secret Service program at the FDR home and a Junior Ranger challenge at Val-Kill. But our sites aren't just house tours and costumes.
"Here in Hyde Park, we've got places to run and play, explore and learn. There are gardens and videos, more than 15 miles of trails, cell phone tours and geocaching, not to mention majestic views and lawns that are perfect for games and picnics."
In addition to providing every fourth grader in America with a free entry pass for national parks and federal public lands and waters, NPS is encouraging fourth grade educators and youth group leaders to participate through field trips and other learning experiences. "We've already developed special tours at the Home of FDR and Vanderbilt Mansion and will soon have one in place at Eleanor Roosevelt's Val-Kill," Superintendent Olson noted.
The Every Kid in a Park website
is more than a portal to park passes. It features engaging learning activities aligned to educational standards, trip planning tools, safety and packing tips, and other information for educators and parents.
Every Kid in a Park's goal is twofold. First, NPS wants to connect fourth graders with the great outdoors and inspire them to become future environmental stewards ready to preserve and protect national parks and other public lands for years to come.
And, second, NPS wants fourth graders to develop an appreciation for the culture and history embodied in places found in their communities and throughout the country. Every Kid in a Park is an important part of the National Park Service's centennial celebration in 2016, which encourages everyone to Find Your Park.
Every Kid in a Park is an administrative-wide effort, launched by President Obama, and supported by eight federal agencies including the National Park Service, Army Corps of Engineers, Bureau of Land Management, Bureau of Reclamation, Department of Education, Fish and Wildlife Service, Forest Service, and National Oceanic and Atmospheric Administration.
Last updated: September 1, 2015