World War II Weekend Speakers
From Admiral Chester Nimitz to war correspondent Ernie Pyle, the guest speakers for Eisenhower National Historic Site's 2023 WWII Weekend will highlight a variety of fascinating stories covering the war in 1943 and its impact on our world today.

Each of these programs will be followed by a book signing.

See the information below for full bios and talk descriptions for this year's speakers.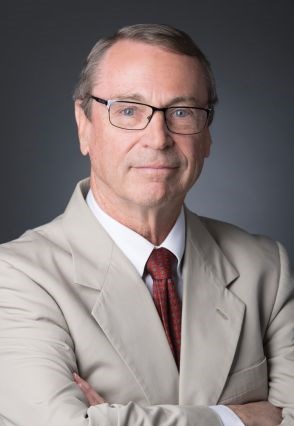 Craig Symonds--"Nimitz and Eisenhower in 1943"
September 15, 7 PM, Gettysburg National Military Park Museum and Visitor Center
Only days after the Japanese attacked Pearl Harbor, President Franklin D. Roosevelt tapped Chester W. Nimitz to assume command of the Pacific Fleet. Over the next four years, Nimitz transformed the defeated Pacific fleet into the most powerful and commanding force in Naval history. Much like Dwight D. Eisenhower, Nimitz faced countless challenges during his command, including competing strategic objectives, overseeing independent personalities and commanders, and coordinating Army and Navy operations in a theater of massive size and scale. He had to navigate the expectations of a nation impatient for revenge and eventual victory. And of course, he also confronted a formidable and implacable enemy in the Imperial Japanese Navy, which, until the Battle of Midway, had the run of the Pacific.

In this program, Dr. Symonds will be looking at the leadership traits that enabled Nimitz's success, and the many similarities in leadership style and personality shared between Nimitz and Dwight D. Eisenhower.

Dr. Craig L. Symonds is Professor of History Emeritus at the United States Naval Academy where he taught for thirty years and served as Department Chair. From 2017 to 2020 he was the Ernest J. King Professor of Maritime History at the U.S. Naval War College. He is the author of seventeen books, the most recent of which is Nimitz at War (2022). He has been awarded the Lincoln Prize, the Roosevelt Prize, the Morison Prize, and the Barondess Prize, as well as the Dudley Knox Medal for Lifetime Achievement and the Pritzker Military Museum & Library Award for Lifetime Achievement in Military Writing.

This program will take place in the theater of the Gettysburg National Military Park Museum and Visitor Center. This program is free of charge, though reservations are required. Call the Gettysburg Foundation at 877-874-2478, or click here: World War II Lecture: Nimitz and Eisenhower in 1943 | Gettysburg Foundation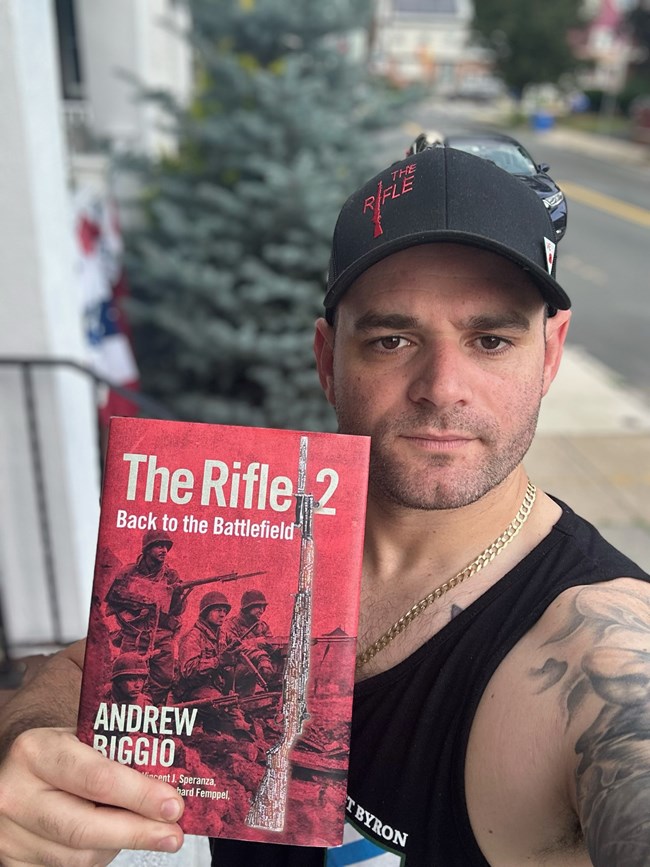 Andrew Biggio--"The Rifle"
September 16, 10 AM, Eisenhower National Historic Site Speaker's Tent

Andrew Biggio is the author of #1 Best- Selling Book The Rifle: Combat Stories From America's Last WWII Veterans, Told Through an M1 Garand. Andrew enlisted in the U.S. Marines after high school. He served as an infantry Rifleman during Operation Iraqi Freedom and Operation Enduring Freedom (Afghanistan). After finishing six years in the Marine Corps as a sergeant, he earned a bachelors degree in sociology from Suffolk university in Boston, Massachusetts.

Andrew has always had passion for history about the Second World War since a very young age. After college, he felt the need to continue to serve. He was sworn in as a police officer in 2015 where he actively works in Massachusetts Law Enforcement. In 2017 he went on to earn a masters degree in Homeland Security from Northeastern University in Boston. Fueled by his passion for history, Andrew interviewed roughly 300 of America's last World War II veterans in order to compile a series of stories to motivate young veterans to live successful lives after combat. The initiative has led to the successful return of forty veterans to their former battlefields all over Europe some eighty years later.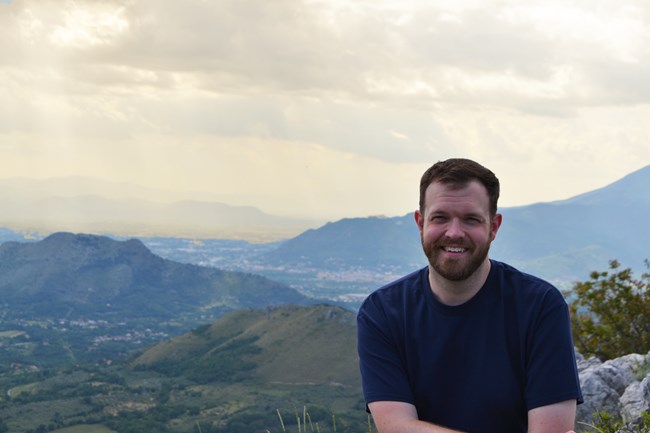 Jared Frederick--"The Iron Gut: A Virtual Tour of Italy's 1943 Battlefields"
September 16, 11:30 AM, Eisenhower National Historic Site Speaker's Tent
Over the course of two adventurous weeks in May 2023, history professor Jared Frederick and two travel mates set out on a far-reaching journey to explore and understand the World War II battlefields of Italy. The expedition began in northern Sicily and stretched the long distance to Florence. The colorful road trip included questionable backcountry roads, too much pasta, incredible artifact discoveries, long-neglected battlegrounds, and poignant reminders of the costs of war. Join Frederick for this lively, visual travelogue as he retraces some of the most unforgiving and forgotten battlefields of World War II Europe.
Jared Frederick has a lifelong passion for American History. Prior to his current position as an Instructor of History at Penn State Altoona, Frederick served as a park ranger at Gettysburg National Military Park and Harpers Ferry National Historical Park. He is the author of several books including Dispatches of D-Day: A People's History of the Normandy Invasion, Hang Tough: The WWII Letters and Artifacts of Major Dick Winters, and Fierce Valor: The True Stories of Ronald Speirs and His Band of Brothers. He has appeared on C-SPAN, PBS, numerous National Park Service productions, and various online documentaries. In 2019, he acted as a guest host on Turner Classic Movies for the channel's 25th anniversary. He is also the host of the popular YouTube channel Reel History.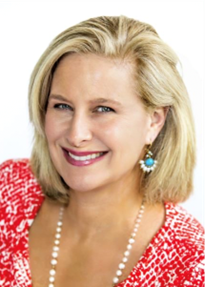 Anne Keene--"The Cloudbuster Nine"
September 16, 1 PM, Eisenhower National Historic Site Speaker's Tent

Anne R. Keene has multigenerational Pennsylvania ties and lives in Austin, Texas. She is a graduate from the School of Journalism at the University of North Carolina at Chapel Hill. Her book, The Cloudbuster Nine: The Untold Story of Ted Williams and the Baseball Team That Helped Win WWII was a finalist for the CASEY Award for the "Best Baseball Book of the Year" and listed by Newsday as a top baseball read. Her work has appeared in publications ranging from the New York Times to HISTORY and she has shared this story about a rare "major league fighter pilot" baseball team with the Baseball Hall of Fame Museum in Cooperstown, the Boston Red Sox 75th anniversary of WWII forum, C-SPAN's American History TV, the National WWII Museum in New Orleans, and the General George C. Marshall Foundation.

Scenes from the Cloudbuster Nine were derived in the woods of Pennsylvania near Penn State and President Eisenhower's Gettysburg home and farm where Civil War veterans taught WWII instructors how to survive in the wilderness. These outdoor survival skills saved the lives of pilots who crash landed in jungles and dangerous terrain and they are still used to this day by civilian campers, weekend hikers, and members of the military. This book offers little-known accounts of greatest generation figures who trained and served on Pre-Flight bases including Presidents Gerald Ford and George H.W. Bush, astronaut John Glenn, Coaches Bear Bryant and John Wooden, boxer Jack Dempsey, WWI ace Eddie Rickenbacker and Penn State's former baseball coach Don Kepler, who headed up Pre-Flight's outdoor survival school.

Anne is also interested in Civil War history. She worked with National Geographic books to capture a post-Civil War exile when Confederates left the United States to settle abroad. In Texas, she supports the Texas Book Festival, the Texas State Library and Archives, and Austin Artists Project. Her website is: www.annerkeene.com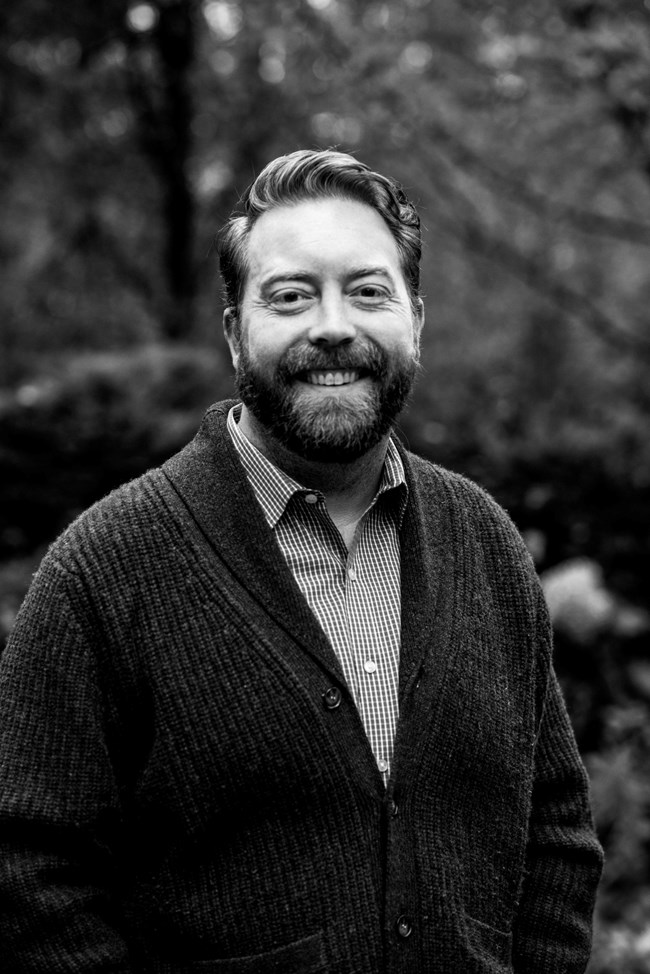 David Chrisinger--"Ernie Pyle:The Man Who Told the Truth about World War II"
September 16, 2:30 PM, Eisenhower National Historic Site Speaker's Tent

At the height of his fame and influence during the Second World War, Ernie Pyle's nationally syndicated dispatches from the front lines helped shape America's understanding of what the war felt like to ordinary soldiers, as no writer's work had before—or since. From North Africa to Sicily, from the beaches of Anzio to Normandy, and on to the war in the Pacific, where he would meet his untimely end, Pyle had a genius for humanizing the soldiers he met overseas by capturing the full gamut of emotions and experiences they were enduring. In The Soldier's Truth: Ernie Pyle and the Story of World War II, acclaimed writer and writing instructor David Chrisinger brings Pyle's journey to vivid life in all its heroism and pathos. David Chrisinger is the executive director of the Public Policy Writing Workshop at the University of Chicago's Harris School of Public Policy and the director of writing seminars for The War Horse, an award-winning nonprofit newsroom dedicated to reporting on the human impact of military service. He is the author of several books, including Stories Are What Save Us: A Survivor's Guide to Writing about Trauma and Public Policy Writing That Matters, which received the 2022 National Council of Teachers of English George Orwell Award.
Last updated: August 11, 2023