Directions and Transportation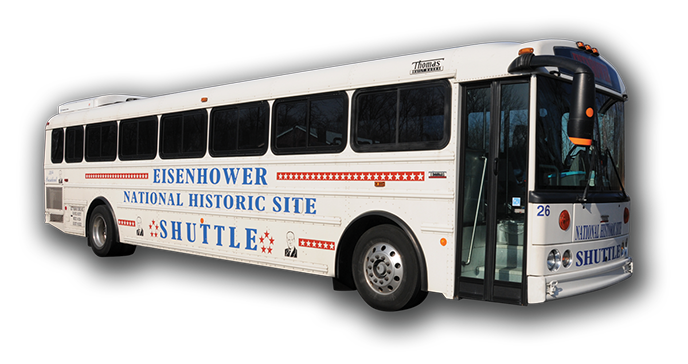 Visits to Eisenhower National Historic Site are by shuttle bus that departs from Gettysburg National Military Park Visitor Center and Museum at 1195 Baltimore Pike (State Route 97), approximately one and one half mile south of downtown Gettysburg. Signs to the Visitor Center are posted at the Gettysburg exits along US 15 for those approaching from the north or south and along US 30 for those arriving from the east or west.

Due to a lack of on-site parking and space limitations in the Eisenhower home, visits can only be made by the shuttle bus leaving from the Gettysburg National Military Park Visitor Center. Tickets may be purchased on a first come, first served basis for the next available tour. (However, visitors may drive their personal vehicles to the site during our winter hours. See our Operating Hours page for details.)
For Those With Wheelchairs
The Eisenhower shuttle bus is equipped with a wheelchair lift. Visitors using wheelchairs may also arrange to follow the shuttle bus in their private vehicle and park in the site handicapped parking area by notifying the cashier at the Visitor Center ticket counter. Wheel chairs are availabale for loan at the site.
For Families With Strollers
Due to space limitations, strollers may not be taken aboard the shuttle buses. Loaner strollers are available at the Eisenower site. Notify the bus driver or the staff person greeting your bus to borrow one during your visit.


Last updated: January 10, 2018