Ranger Programs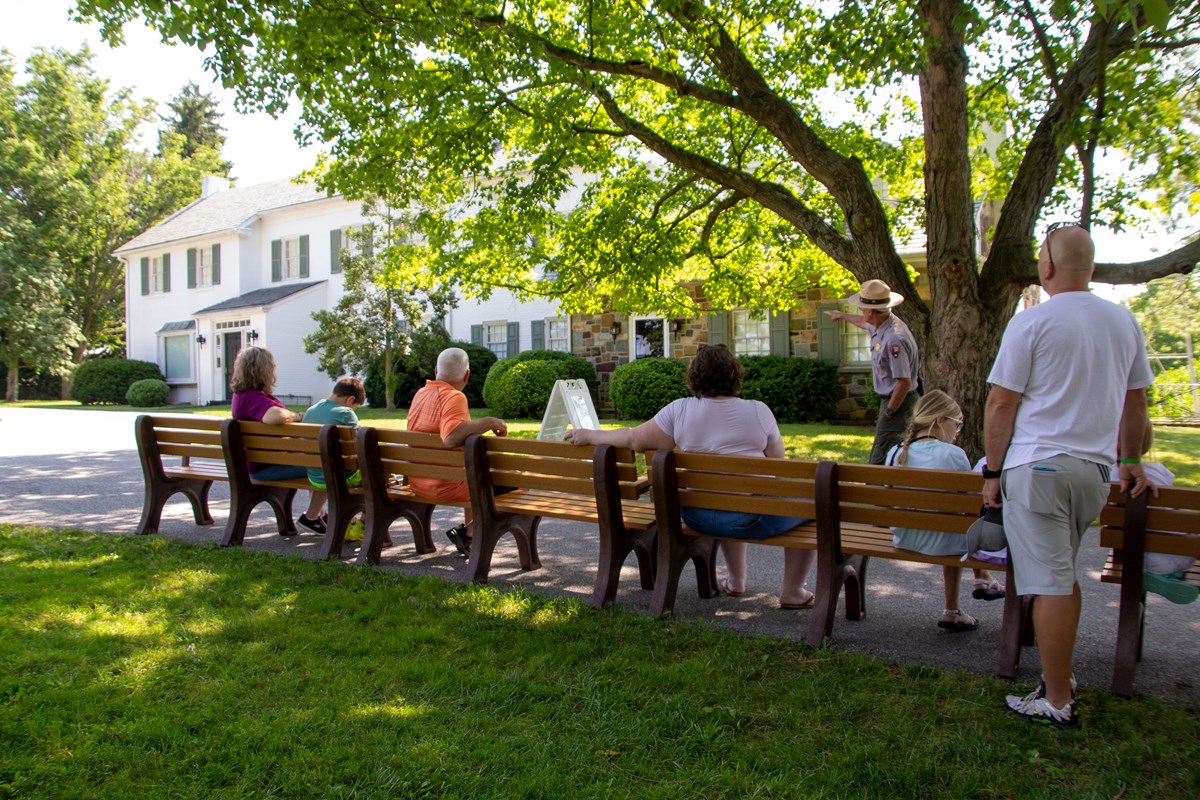 Eisenhower National Historic Site is offering a variety of free ranger programming throughout 2022. Below is a listing of our offerings.
House Tours
Friday, May 27 through Monday, October 10, park rangers will provide free tours of the Eisenhower home. These tours take place Thursdays through Mondays, and meet hourly from 10 am to 4 pm. Tours begin in front of the Eisenhower home.
Regular shuttle service will be available on days the Eisenhower home is open for tours. Shuttles will depart the Museum and Visitor Center once an hour starting at 9:30 am, with the last shuttle at 3:30 pm.
Shuttle Bus Fee
$9 for adults
$5 for youth
To purchase shuttle tickets or for group reservations, contact the Gettysburg Foundation ticket office at 877-874-2478 or by visiting their website.

No home tours or shuttle service will be offered on Tuesdays and Wednesdays. The grounds will remain open on those days sunrise to sunset with limited public parking available on-site.
Camp Colt Ranger Walks
2nd Saturday of the month, 10 AM, May 14 - October 8 (Upcoming programs on 9/10 & 10/8, no program 8/13)
Meet a park ranger at the National Cemetery parking lot for a free one hour long guided walking tour exploring Camp Colt, Gettysburg's World War I tank training camp. Explore Captain Dwight Eisenhower's time commanding Camp Colt in 1918 and how the lessons Ike learned here helped him to develop as a leader. (There will be no Camp Colt Walk on 8/13/2022)
WWII in Gettysburg National Cemetery
Saturdays, 4 PM, June 4 - August 13
Meet at the Taneytown Road Entrance to Gettysburg National Cemetery. Join a park ranger for a guided walking tour of Gettysburg National Cemetery focusing on the stories of fallen WWII soldiers, sailors, airmen, and marines who were brought home to Gettysburg for their final burial. (There will be no WWII Cemetery program on 8/13/2022)
Farm Fridays
Friday afternoons, 12-4 PM, at the Eisenhower Show Barn, June 3 - August 12
Join park rangers and volunteers to see the Eisenhower Show Barn for this new, exclusive opportunity, featuring informal programming and interactive activities. Farm Fridays are the only times the Eisenhower Show Barn will be open to the public this summer. Discover stories of Eisenhower conducting "barnyard diplomacy" with world leaders and explore the rich agricultural heritage of south-central Pennsylvania.
Last updated: August 10, 2022