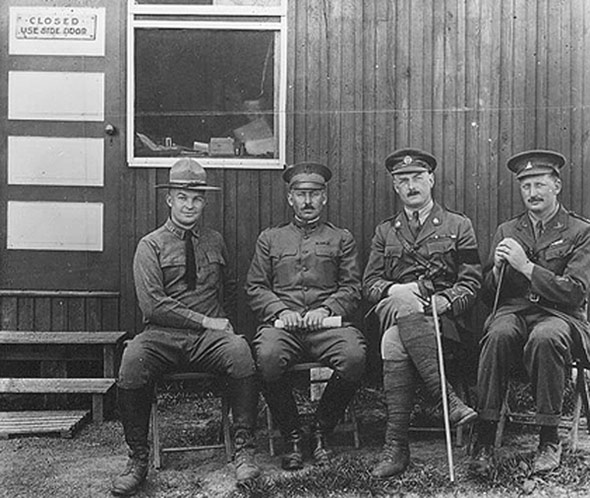 News Release Date:
April 8, 2015
Contact: Andy Tarbet, 717-338-9114 Ext. 4412
The National Park Service at Eisenhower National Historic Site will commemorate the centennial of the First World War with a World War I Day on Saturday, May 9. The public is invited to visit the site and interact with living historians portraying World War I troops and join park rangers for talks on Eisenhower's Great War years.
One hundred years ago, in May of 1915, the war was raging in Europe. The Second Battle of Ypres was in its third week and the Germans had just started to use poison gas. Allies had recently landed at Gallipoli and on May 7th the Lusitania was sunk by a U-boat torpedo killing 1,198 on board.
To commemorate the Great War, a small encampment of World War I living historians will share their knowledge and tales of the war as it was experienced by those who fought in the trenches in Europe. On display will be WWI uniforms, equipment and weapons, including a collection of artifacts from Camp Colt, the U.S. Army's tank training center located on the Gettysburg Battlefield.
It was also in May of 1915 that Cadet Dwight D. Eisenhower arrived in Gettysburg with his West Point class to tour and study the civil war battlefield. Three years later, he would return to Gettysburg as commander of Camp Colt, responsible for training soldiers to operate the war's new weapon - the tank.
 
The story of Gettysburg's World War I camps will be shared by guest speaker, Peter Miele, Education Coordinator of the Seminary Ridge Museum, who will present a talk entitled "Men, Morality, and Misbehavior: WWI Camps at Gettysburg" at 11:15 a.m. and 2:15 p.m. In addition, park rangers will conduct programs on Eisenhower, Camp Colt, and the Spanish Flu epidemic at 10:15, 1:15, and 3:15.
Eisenhower National Historic Site is open daily. All visits are via shuttle bus from the Gettysburg National Military Park Visitor Center, 1195 Baltimore Pike in Gettysburg. Shuttles depart every half-hour from 9:00 a.m. to 4:00 p.m. daily. Admission is $7.50 for adults, $5.00 for children ages 6-12, under 6 free.
For more information contact the Eisenhower National Historic Site at 717/ 338-9114 or visit the website at www.nps.gov/eise