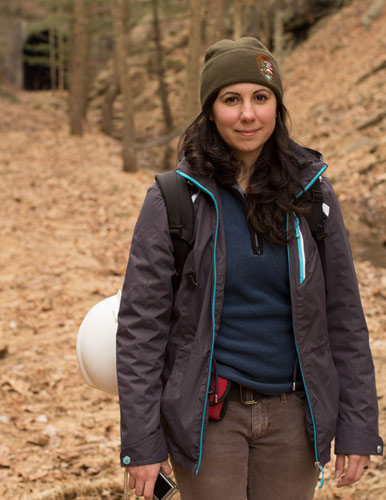 News Release Date:
July 10, 2015
Contact: Katie Lawhon, 717-338-4402
Ahna M. Wilson has been selected to fill a new position as site manager for Eisenhower National Historic Site (EISE). She is currently historian/cultural resource manager for the Chesapeake &Ohio Canal National Historical Park based in Hagerstown, Maryland. 
The Site Manager at Eisenhower National Historic Site is responsible for planning, managing, directing and evaluating a complex and multifaceted program of interpretation, resource education, visitor services, community outreach, youth programming and partnerships at the home and farms owned by General Dwight David Eisenhower, the 34th President of the United States and Supreme Allied Commander in Europe during World War II. The Site Manager at EISE reports to the Superintendent of Gettysburg National Military Park.
"I am incredibly excited to join the staff at EISE," said Wilson. "I hope to work with staff and partners to preserve, protect, and interpret the stories and resources associated with President Dwight D. Eisenhower, his family, and the history of the site."
Originally from the Quad Cities area of Illinois, Wilson began her career at the Chesapeake &Ohio Canal National Historical Park in 2008 as a National Council for Preservation Education Intern. During her internship, she worked toward a BA in History from Shepherd University, concentrating in the American Civil War. Upon completion of her internship, she was hired as the park's historian and in 2012, was promoted to Cultural Resource Program Manager. Wilson currently resides in Hagerstown, MD, with her husband and two little girls but plans to relocate to the Gettysburg/Chambersburg area. When she isn't working, she loves riding her horse, Burrito, reading, and playing ice hockey.
"We're very excited to have Ahna Wilson as Site Manager at Eisenhower," said Ed W. Clark, Superintendent of Gettysburg National Military Park. "Her experience as a historian, coupled with her success in advancing projects and initiatives, and working with the public and partners is a perfect fit for the job."
Wilson will begin her duties on August 23.