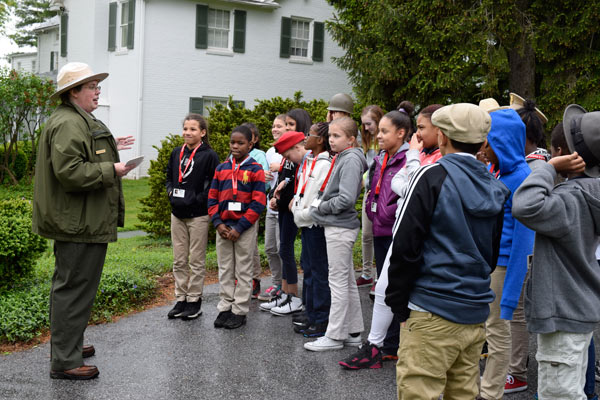 News Release Date:
May 20, 2016
Contact: Ahna Wilson, 717-338-4411
"I don't know, but I've been told, Army life is good as gold.
Three full meals, a nice warm tent, Uncle Sam pays all the rent…"
Twenty three 5th graders, most attired in Army overseas caps with several others sporting less military looking headwear – a fedora, a straw farmer's hat, a plaid golf cap - sing cadence as they march across the President's front yard. They are marching to meet the Supreme Commander Dwight D. Eisenhower.
The students are from McKinley School in York, PA, and most are visiting a national park and President's home for the first time. Their visit to Eisenhower National Historic Site, as well as those by 18 other City of York 5th and 8th grade classes, is made possible by a generous "Ticket to Ride" grant from the National Park Foundation with additional support from the Dwight D. Eisenhower Society, the Gettysburg Foundation, and the LCBC Community Church.
During their visit, students participate in the site's character education program, "The Molding of a Leader." Students role play different character-building experiences in President Eisenhower's life as they tour his Gettysburg home and farm. Sporting an array of different Eisenhower hats, they portray him as an Abilene High School student, West Point cadet, a captain in Gettysburg, supreme commander, president, farmer, and golfer.
After exploring the entire farm and meeting a lifetime of Eisenhowers, students are awarded an I Ike Like pin for their Academy Award-winning performances and several Polaroids are taken of the class posing in their hats in front of the President's home.
This past fall, York eighth grade students also visited the Eisenhower Site to participate in Agricultural Science field studies on Soil and Water. Students engaged in hands-on science amid the farm's cropland and wetlands.
This is the fourth year that City of York schools have been participating in the Ticket to Ride program. The program hopes to encourage students to return and visit their National Parks with their families.
For more information contact the Eisenhower National Historic Site at 717/ 338-9114 or visit the website at www.nps.gov/eise