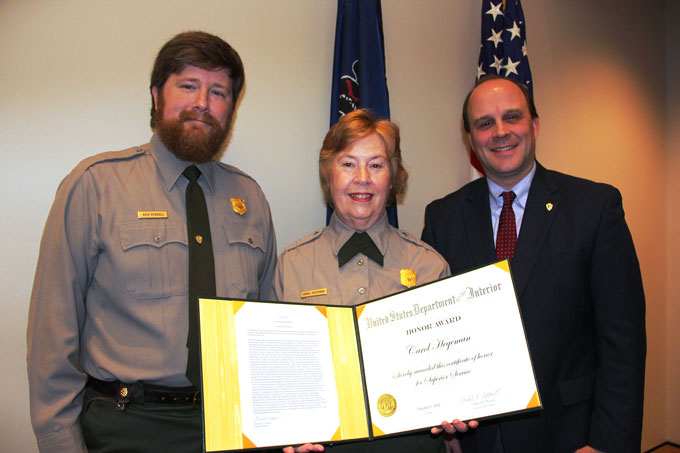 News Release Date:
December 30, 2014
Contact: Katie Lawhon, 717-338-4402
The U.S. Department of the Interior recently recognized
Carol Hegeman, Supervisory Historian, Eisenhower National Historic Site for
superior service.  Rick Kendall, Gettysburg National Military Park
and Eisenhower National Historic Site interim superintendent, and Mike
Caldwell, regional director, presented the award.
Hegeman will retire with 42 years of federal service on
January 3, 2015. She first worked at the Eisenhower Site when it opened
in 1980.  Among multiple achievements, she has conducted over 200
hours of oral history interviews about the Eisenhowers in Gettysburg, and served
as editor for the book, Eisenhower National Historic Site Museum
Collections. Throughout her career, Hegeman has also worked at
Gettysburg National Military Park, Lake Mead National Recreation Area, and
Lincoln Home National Historic Site. 
"Probably the most rewarding aspect of my job was the
opportunity to conduct interviews with Eisenhower family members, friends,
staff and associates," said Carol Hegeman. 
Along with her husband, retired Gettysburg NMP Museum
Specialist Paul Shevchuk, Hegeman plans to travel in retirement, and
to continue contributions to the site's oral history project, such as
digitizing the interviews and making them more accessible for researchers.