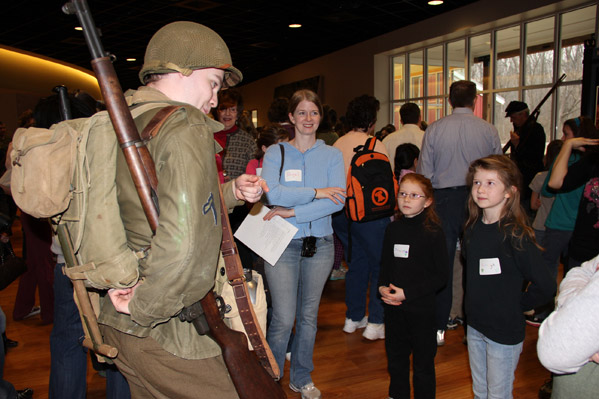 News Release Date:
September 10, 2015
Contact: Barbara Sanders, 717-338-4422
Visitors to the Education Planning Tools section of the park's website at www.nps.gov/get will discover a range of field trip activities, outreach and distance learning opportunities, and professional development for teachers and administrators.  Reservation request forms are now being accepting for all of the 2015-2016 offerings including the following NEW programs and workshops:
Ranger Field Programs:
New ranger field programs this year for Eisenhower National Historic Site include "Ike and the Men of D-Day, June 6, 1944." Students in grades 4 through 12 can role play a draftee heading to Europe in preparation for the D-Day invasion, see his equipment and visit the Gettysburg home of his commanding general, Dwight D. Eisenhower. Another new program combines the art features of both parks into one experience; "Gettysburg  Parks and the Arts" guides 2nd through 5th grade students through an exploration of Gettysburg's outdoor sculpture, the monuments along Cemetery Ridge, then heads to the home of President Eisenhower to discover eight of his portraits and landscapes. The program concludes with opportunities for the students to create a sculpture or painting of their own. 
All 10 of the ranger field programs are offered from October 5 through November 6, and from April 4 through June 3, 2016. 
Distance Learning:
For those who cannot make it to Gettysburg for a field trip, the parks offer a host of classroom experiences, including Virtual Ask-a-Ranger inquiry-based lessons for 7th through 12th graders on topics ranging from Causes and Consequences of the Civil War to President Eisenhower's visits with Prime Minister Nehru and Premiere Khrushchev at his Gettysburg farm. Other distance learning opportunities include Traveling Trunks on the life of a Civil War soldier shipped to your school, and new this year Centennial Classroom Visits –career-based presentations and assemblies at schools to celebrate the National Park Service's 100th birthday in 2016.
Professional Development:
This November, teachers, principals and administrators can experience a field trip of their own, and have access to behind-the-scenes opportunities, curriculum connections, and leadership lessons for the district staff at the new "Be Our Guest" workshops on November 16, 17 and 18. There are also opportunities this year to partner with the parks for a special in-service day and objectives specifically for your district. 
Finally, Summer Days with Documents are planned for July 2016. The Civil War Edition, July 13-15 will focus on Documenting Civil War Novels and Films; Soldier Letters, Diaries and Pension Files; and Flags, Guns and Proclamations: Complex Museum Objects as Discussion Starters and Writing Prompts.  Summer Days With Documents, Eisenhower Edition, July 20-22, will feature Eisenhower and the World Wars; Eisenhower and World Diplomacy; and Eisenhower, Civil Rights and other Domestic Issues.
To make a reservation for any of these programs and events, go to www.nps.gov/get and click on the Education Planning Tools feature to access the reservation forms.